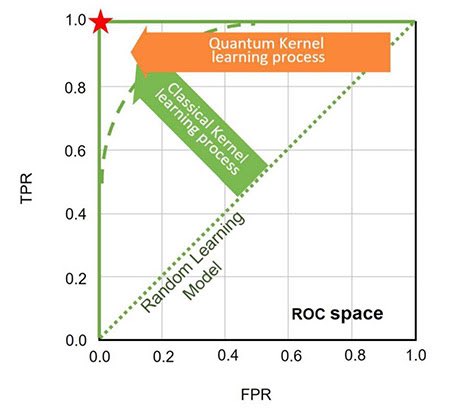 Graph presenting hypothesis of Toppan researchers—quantum and classical learning processes on ROC space. ©TOPPAN INC.
Demonstration of difference between classical and quantum machine learning model construction processes will help advance practical application
Tokyo – December 16, 2022 – Toppan (TYO: 7911), a global leader in communication, security, packaging, décor materials, and electronics solutions, is advancing research on quantum machine learning as part of efforts focused on next-generation computing technologies. Toppan has used multiple data sets, including manufacturing data, to research learning model construction processes for classical and quantum machine learning. A related paper was published on December 15 in EPJ Quantum Technology,1 an online journal from Springer Nature.
About the research paper
Title: Performance of quantum kernel on initial learning process
Authors: Takao Tomono and Satoko Natsubori
Featured in: EPJ Quantum Technology (Published by Springer Nature)
The paper can be viewed at https://rdcu.be/c1DRF
Background
Quantum computing is expected to be a game-changing technology that revolutionizes a wide range of industries. Development of related software, hardware, and technologies is therefore underway to drive practical application.
Artificial intelligence (AI) is used to analyze big data and make predictions, but accuracy is influenced by the volume, quality, and characteristics of the data as well as by the AI learning conditions. This means that time is required to preprocess data and configure parameters. With growing needs for more efficient analysis and prediction, the use of quantum computers for AI is seen as a potential means to further enhance learning speed and performance.
Internet of Things devices and sensors are being used to advance the digital transformation of manufacturing, and machine learning using AI has been introduced for image-based quality inspections. Learning models suited to production operations are required, and methods for constructing models for small volumes of learning data therefore need to be developed.
Leveraging its quantum technologies for research, Toppan created learning models for both classical and quantum machine learning using multiple datasets, including manufacturing data. As a result, a significant difference between the two model construction processes was identified.
Overview of the research paper
Toppan's researchers proposed a method to demonstrate the difference between the learning model construction processes for quantum and classical machine learning. When the method was applied to manufacturing operations at Toppan's plants, a significant difference was seen between the quantum and classical learning model construction processes. This method can potentially be used to make prompt decisions on which machine learning method, classical or quantum, is most suitable for specific individual datasets.
"Toppan aims to contribute to the next-generation digital society by exploring the possibilities of quantum machine learning," said Takashi Ito, Executive Officer of Toppan's Digital Innovation Division. "Going forward, we will verify the findings of this research by testing with real data and look to expand the application of quantum machine learning beyond manufacturing to processes such as quality checks, shipping inspections, and logistics."
1. EPJ Quantum Technology is an open access electronic journal covering primary research papers on theoretical and experimental advances in quantum technologies.
For more information, visit https://www.toppan.com/en/ or follow Toppan on LinkedIn https://www.linkedin.com/company/toppan/.