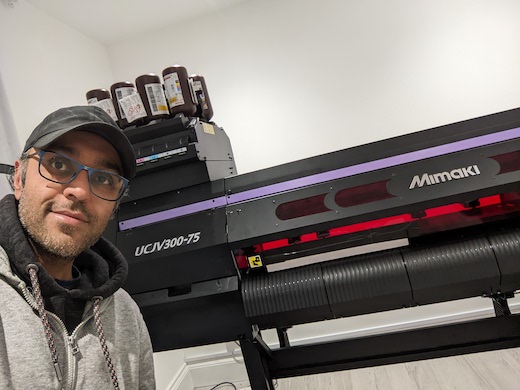 New print and cut investment made to exacerbate market differentiation and expand product ranges
CMYUK, Shrewsbury: Get Sticking has installed a Mimaki UCJV300-75 from CMYUK. The new investment allows the company to extend its market offering and propel itself above the competition with superior quality products.
The business was founded five years ago by Narendra Nardani. Originally a wedding videographer, he wanted to expand his entrepreneurial activity, and decided to set up an online business. Get Sticking billed as 'The World's cutest wall decorations for children', offers self-adhesive wall stickers for child-centric spaces within the domestic, public, and commercial environments.
Get Sticking was inspired by Narendra's own family's sense of adventure and fun paired with a passion for design. "We believe that every space a child inhabits offers a unique opportunity to explore, create, learn, and discover, whilst all the time having fun. That's why each sticker we produce is uniquely designed to us, handmade, printed, and packed from our London premises," he says.
In the early days, Narendra was managing the sticker artwork, with thematic designs such as mermaids, space, unicorns, fairies, pirates, and animals created exclusively for the company by selected designers. Printing and cutting were initially outsourced, but after sub-letting new premises, he purchased a print and cut machine and began outputting his own print.
The business continued to grow organically but COVID and the ensuing lockdown altered the market. "Lockdown meant that there was a lot of people at home who were taking advantage of desktop printers to produce their own creations. I didn't want to get lost in this sea of home/producers and realised I had to differentiate myself. I'd seen some incredible window stickers and found out that they had been printed on a Mimaki. I realised that this technology would allow me to stand out from the crowd," he says.
Narendra reached out to CMYUK as he was impressed by the slick professionalism of its website and general marketing activity. "I rang Sue Hayward [CMYUK Sales Director, Equipment] and she arranged for me to have a demo on the printer straight away. I was really impressed with that 5-layer feature. It provides me with a boldness of direction," he says.
The Mimaki UCJV300-75 is a versatile UV LED printer that combines printing and cutting in one unit. A high spec printer, it offers 5 print layers making it perfect for the production of strong and vibrant window stickers. It has a small footprint (it's only 800mm wide) and is ideal for stickers, labels, and point of sale materials.
The installation of the Mimaki has also led Narendra to produce seasonal designs. Halloween and Christmas are now done, and he's looking to Valentine's Day, spring, and Easter. Future plans include expanding into the gifting market – a logical step underpinned by the sheer versatility and quality of the new printer.