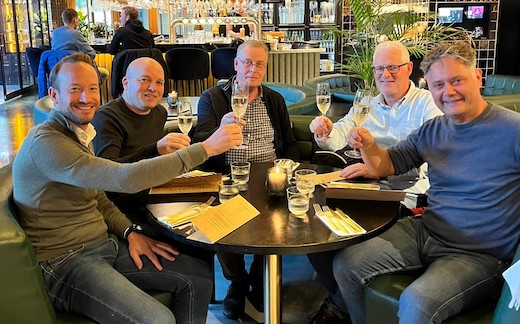 Celebrating the intensified cooperation with; Erwin van Rossem, (Director of Global Sales & Marketing QIPC-EAE), Jacco de Vries, (Director Rotagraphic) together with Paul Mutgeert (Project Manager/Senior Office Manager), Henk Pronk (Plant Manager) and Arjan Roseau (Maintance Manager) of Mediahuis Noord Grafisch Bedrijf.
Ahrensburg – Mediahuis Noord Grafisch Bedrijf, formerly NDC Mediagroep Grafisch Bedrijf, is taking the next step in the modernization process of their print site in Leeuwarden, Netherlands. After investing in a complete automation package from Q.I. Press Controls (QIPC) with regard to print quality with color density, register, damp and ink control, it is now up to its sister company EAE Engineering Automation Electronics (EAE) to modernize production planning and order preparation.
Paul Mutgeert, Project Manager at Mediahuis Noord Grafisch Bedrijf: "With the decision to optimize and modernise the production planning and order preparation, the decision for EAE's software was made at a glance. We have been working with software solutions from EAE for decades, such as press planning tool "Print 6" and the page workflow software Print-Image. Now we are adding the V.I.P. operating system including the Reel data system. Whereas before we had to use different applications, with the introduction of V.I.P we can process the order flow from a single central system."
V.I.P. (Visual Intelligent Plant) is a system that allows planning and visualization of the entire production flow. This applies to the entire process, meaning; before, during and after -printing. It provides support e.g. in planning creating plates and paper feed, press configuration, packaging and inserting; right down to bundling at the loading dock. Reeldata records everything concerning paper consumption and provides insight into stock as well as consumption and quality data. This expansion provides company-wide cost optimization and efficient cost control. Paul Mutgeert: "With the utilization of the VIP system, we mainly expect to be more efficient in the realization of the production planning and order workflow. In addition, it will also be possible to gain good insight into the progress of the productions through clear reporting."
Mediahuis Noord Grafisch Bedrijf in Leeuwarden will set up the workflow in a similar way as they have previously done at their printing plant in Paal Beringen in Belgium. Meanwhile all their other printing plants are now equipped with QIPC-EAE's quality control solutions. Paul Mutgeert: "Because all locations use the same software and equipment, we can easily exchange knowledge and increase the quality of our processes and products. Partly due to the many years of experience we have with QIPC-EAE's products, we know that we are dealing with a very reliable, service-oriented and solid partner. In our industrial environment, the quality of the products is considered as reliable and robust. And problems that may arise are always solved very quickly and appropriately."
He continues: "We expect the cooperation with QIPC-EAE to remain as good as it has been in recent years. We know very well what we expect from each other. The mutual contacts are therefore familiar, informal and approachable."
For more information on EAE please visit: www.eae.com