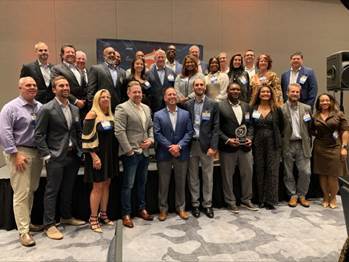 Ranking as the 32nd fastest growing company in the Baltimore region.
OWINGS MILLS, MD - The Baltimore Business Journal (BBJ) recently revealed its official ranking of the 50 fastest-growing private companies in the Baltimore region. Strategic Factory came in at No. 32.

The BBJ tabulates the Fast 50 list each year by measuring the annual average growth rate of participating companies in the region over a two-year period. This year's exclusive list features companies representing a variety of industries that were ranked by the highest average percent change in revenue from 2019 to 2021.

"We're proud to be recognized by the Baltimore Business Journal as one of the fastest-growing companies in the region over the past couple of years," said Keith Miller, President & CEO of Strategic Factory. "I want to thank the incredible team at Strategic Factory, our amazing customers, and our supportive vendors. Without them, this honor wouldn't be possible."

The BBJ had previously released a list of the companies that experienced the fastest growth, with the official rankings later announced at an awards celebration at the Marriott Owings Mills Metro Centre in Owings Mills on Tuesday, November 1.

"To come together and celebrate in person with other companies on the Fast 50 list made for a very special evening," said Miller. "I look forward to seeing the continued growth of the Baltimore region for many years to come."

Visit strategicfactory.com to learn more.