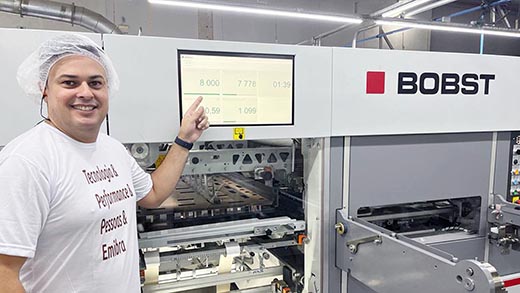 Mr. Rodrigo Augusto, Operations Manager of Emibra
Investment in people and technology has always been a key part of packaging producer Emibra Embalagens' DNA. Today, with around 200 employees, the traditional family-owned business' graphic park is state-of-the-art and one of the most modern in Brazil
Emibra's partnership with BOBST started 22 years ago with its purchase of the MEDIA 68 II A2 folder gluer. The relationship, which is still going strong today, has been a resounding success, as Operations Manager Rodrigo Augusto states: "Since the first acquisition back in the 2000s, we have not bought another brand other than BOBST."
The company's latest investment is a NOVACUT 106 E die-cutter. With quick set-up, perfect registration and operating in formats of up to 1060 x 760 mm, the new NOVACUT 106 E die-cutter achieves impressive speeds of 8,000 sheets per hour, providing great flexibility and high performance.
Rodrigo commented: "With the addition of this machine, we have achieved significant gains in terms of our print capability. The NOVACUT 106 enables great agility in job changes and better operation thanks to the very well-positioned human-machine interfaces, not to mention its speed. Our productivity has increased by more than 60%, critical to helping us to stay agile and effective in an increasingly demanding consumer market."
Today, Emibra has ten BOBST machines in its facilities, including five folder gluers and five die-cutters. In addition to the equipment, Emibra has adopted the preventive maintenance plans and the training offered by BOBST. These investments have helped to upskill Emibra's workforce, as well as reduce machine downtime. These factors have combined to make Emibra one of the most productive companies in the packaging sector, which is proud to offer the market an OTIF index higher than 98%.
Rodrigo added: "The high-quality technical assistance and support provided by BOBST has proved to be a key benefit from our investment. As well as helping us to solve any technical issues that arise, BOBST provides excellent training to our employees, which is key to ensuring return on investment."
In fact, the results that have been achieved with the new equipment have helped cement the relationship between both companies. Rodrigo said: "I was able to approve the project with the presidency and financial board in record time, since the numbers presented showed very fast return and are already exceeding the initial projections."
He added: "Being able to meet the market's specific demands in an agile way and with extreme quality, is currently the main differential for our company. That's why we decided to invest in BOBST equipment."
The new equipment was very well received by Emibra team. Rodrigo continued: "We are a company that aims to offer excellent working conditions, being even listed among the 100 best companies to work for by the Exame Guide. As a reflection of our working environment ethos, our employees always want to deliver more and better, fitting perfectly with BOBST quality."
Emibra also has a strong performance in sustainability, having kick-started the program 'Emibra do Bem'. One of the most interesting initiatives of the program was the creation of an Emibra 'currency', which employees accumulate as they bring recyclable and technological waste to the 'ecopoints' located around the site. They can exchange their Emibra currency for various items in a program-specific store.
The investment in the new equipment also reinforces Emibra's focus on sustainability, by significantly reducing waste generation and energy consumption in the plant. These gains are already being incorporated into the company's sustainability KPIs.
One of the reasons that this partnership has lasted for more than two decades is because of how BOBST's performance differs from that of other companies. "The robustness and performance of BOBST equipment are impressive," said Rodrigo, "but the structure, technical support and service make all the difference."
The BOBST investment has enabled Emibra to postpone the implementation of a new shift in the company. Rodrigo explained: "We are at a critical point in delivering to the folding carton market and were planning to begin a third shift in our production. Thanks to this investment and the productivity boost we have achieved with the new equipment, we have been able to postpone this step for the time being."