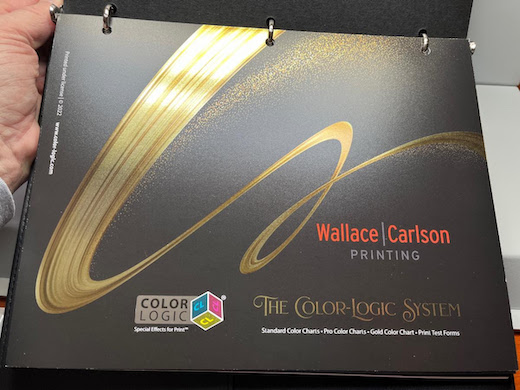 West Chester, OH, USA--Color-Logic has announced that Wallace Carlson Printing in suburban Minneapolis, Minnesota, is the first Color-Logic certified offset printer for cold foil. The certification was done with Wallace Carlson's new Vinfoil Optima cold transfer foiling unit on its new Komori GLX640 ADVANCE press. Color-Logic Director of Sales and Marketing Mark Geeves, announcing the certification said: "By adding a Vinfoil Optima cold transfer foiling unit to the press and incorporating the Color-Logic metallic color system, Wallace Carlson now has the capability to produce the full range of 924 Color-Logic metallic colors plus our embellishments for their packaging clients. This expands our 2018 Wallace Carlson certification, in which the company used Color-Logic with silver ink and CMYK, and white ink and CMYK on metallic stocks, to differentiate their brand clients."
Discussing the new capability, Wallace Carlson COO Charlie Cox commented: "Using the Color-Logic process on our Komori press lets Wallace Carson demonstrate the full metallic capability we offer customers, with an unlimited number of foil colors and embellishments on our clients' packaging. Moreover, the packaging produced on our press is fully recyclable. For the graphic designers and marketers we serve, we just produced a display binder showing the complete Color-Logic metallic color selection--an incredible tool that makes color selection quick and easy."
For more information, visit www.color-logic.com or call +1-513-258-0047.