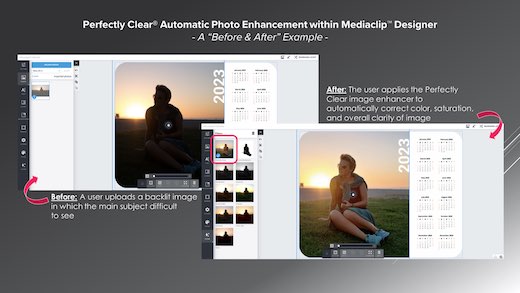 Businesses using Mediaclip's white-label product personalization technology, with Perfectly Clear, will benefit from increased conversion rates thanks to exceptional image rendition, providing the best product possible that diminish order returns.

Montreal, QC & Calgary, AB Canada — Mediaclip™ today announced the integration of Perfectly Clear® automatic image enhancement technology into their white-label product personalization software solution. The addition of Perfectly Clear ensures optimized image quality of consumer orders to reduce returns and reprints, increase conversion, and provide the best product possible.

"We're always trying to improve our offering, and we have no doubt that Perfectly Clear will show immediate ROI to our customers," said Christian Rondeau, chief technology officer of Mediaclip. "When you're working with consumer images, you're limited by the quality of the uploads. With Perfectly Clear, we have the power to change that for our customers — their automatic corrections are optimized to bring out the best in photos both on screen and in print."
Perfectly Clear, created by EyeQ Imaging Inc, is a suite of world-leading automatic image correction tools that are licensed by companies around the globe. The proven technology uses a blend of real science and AI to intelligently correct images based on their needs. Up to 40 automatic corrections can be made to each image such as exposure, sharpening, AI Skin Tone Accuracy, and depth.

"We have seen huge ROI with Perfectly Clear when used by companies that print consumer photos," said Brad Malcolm, co-founder and CEO of EyeQ Imaging Inc. "We have some of the top imaging companies in the world reporting 90%+ reduction in returns after implementation, not to mention increases in conversions and sales due to better image quality. We're excited to see these results through the Mediaclip integration as well."

Pricing for Perfectly Clear can be charged per image or as a package price and is determined based on volume between the customer and EyeQ. To begin using Perfectly Clear through Mediaclip, the integration path is currently offered to customers free of charge for a limited time only. You can learn more about Mediaclip at https://www.mediaclip.ca/ and more about Perfectly Clear at https://eyeq.photos/.