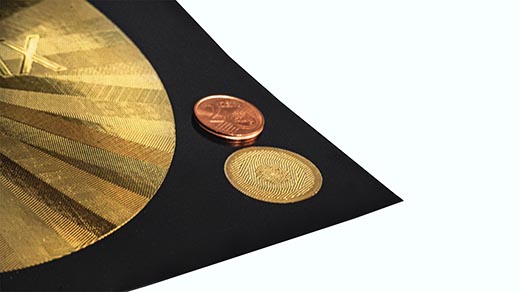 Scodix Foil™ powered by SHD achieves super fine delicate details in designs and in micro fonts.
Scodix, Israel – Scodix, the world's leading provider of digital enhancement solutions for the graphic arts industry, will be focusing on economic, productive and sustainable embellishment at this year's PRINTING United, including the debut of SHD – Smart High Definition – to its technology portfolio.
"The economics of embellishment are more important than ever," says Mark Nixon, Scodix VP Global Sales & Marketing. "Which is why Scodix has developed its range of enhancement presses to deliver fast ROI by being extremely productive and economic when producing complex and compelling enhancements. Sustainability is even more paramount and visitors to PRINTING United will see that Scodix digital enhancement solutions, including our breakthrough SHD technology, use clean, eco-friendly processes – with no metals, no acid etch and low energy-use."
At PRINTING United, Scodix will debut SHD on the Scodix Ultra 6000 press. The updated digital enhancement system offers high-definition imaging which delivers an accurate, economic, and sustainable alternative to traditional foiling for sheets up to B1 size. Smart High Definition also affords the users fine delicate details and micro fonts, giving clarity and definition to foiling. PRINTING United attendees will have the opportunity to explore the cost-effective, high-quality solution for enhancement, reducing waste, boosting uptime, and shortening time to market.
Digital enhancement allows print and packaging service providers to offer customers increased flexibility and faster turnaround times when compared with traditional analog metal foiling. As sustainable processes become increasingly essential to the industry, the environmental benefits are significant, including eliminating VOC emissions, removing the need for metal-based stamps/clichés, chemicals, and solvents, and thus reducing energy consumption.
"There is a golden opportunity for brands to forge strong connections with customers through engaging, premium packaging with high-quality enhancement," comments Nixon. "Many companies already understand that, and now see how valuable the Scodix Ultra 6000 in particular is as a replacement press for traditional embellishment. We've clearly got the quality and economics in enhancing and we are looking forward to demonstrating that to visitors at the show."
See Scodix at PRINTING United on Booth N2521 in the North Hall and Central Hall from 19th – 21st October at the Las Vegas Convention Center in Las Vegas, NV.