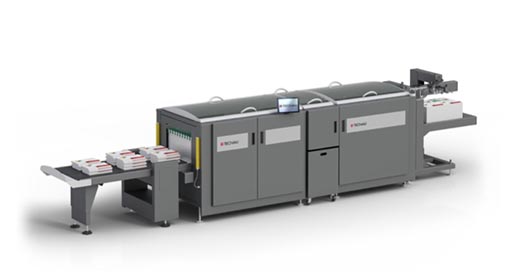 North Andover, MA – At Printing United 2022, for the first time in North America, Tecnau exhibits its Stack 1212 system for cutting and stacking multi-up printed B2/B2+ sheets down to final finished size. The system reduces manual print handling and consolidates cut/trim finishing in a single-pass automated process. Specifications include support for up to 21-up impositions, and paper weights up to 350 gsm, while running at speeds up to 6000 input sheets per hour. Use Stack 1212 to cut postcards, letters, books, brochures, and calendars down to size.
Stack 1212's Cutter c12 trims outer edges and supports gutter removal and double cuts for bleed applications as well as simple single-slitting & single cross-cuts. The module features cartridge-based cross-cut blades and trim slitters for fast & easy application changes. The Cutter offsets the entire sheet to separate jobs or book blocks. Following the cutter, sheets enter the Stacker s12, gliding smoothly onto the building stack. Each job can be delivered to the conveyor one at a time, individually offset within the stack or delivered when the operator-programmed stack height is reached.
Stack 1212 features:
Small footprint – With its uni-directional design, Stack 1212 consumes about 100 square feet, much less space than competitive offerings.
Offline operation – depending on your application environment, you may be able to support cutting and trimming output from multiple digital & offset presses.
Stacker – the Stacker s12 presents neat, easily offloaded stacks of 1, 2, or 3 up output.
Economical design – Stack 1212's right-sized automation minimizes your investment
"We're very excited to show Stack 1212 live for the first time," said Jeff Kewin, president of Tecnau Americas & Asia Pacific. "We think it will be an excellent solution for those looking to minimize labor while cutting down postcards and other applications from B2 sheets."
In addition to this sheetfed solution, Tecnau also features in its booth N1617 its latest generation offering for cutting and stacking output from high-speed continuous web inkjet presses, showing the Revolution 50 Stack 5251L. Featuring the just-launching Unwinder u50, Tecnau's Stack 5251L accommodates the broad range of papers and heavy ink coverages characteristic of the demanding graphic arts applications migrating to inkjet print as enabled by the emerging generation of high-speed inkjet presses.
The Revolution 50 Stack 5251L includes a number of unique features:
Retractable cut section for quick jam clearance and quick changes of the long-life cutter blade
Minimal footprint compared to competitive systems, to better fit in tight spaces
Dynamic web aligner for a smooth, stable web flow and reliable handling
Adjustable decurler to aid in handling of challenging heavy and light papers
The system's Stacker s51L incorporates vacuum belts to support a broad range of applications and media up to a 30" maximum cut length. Stack 5251L features next generation controls for compatibility with the "Internet of Things" (IoT). The system includes natural-language error reporting on the user screen and onboard diagnostics to help keep the system up and running. IoT options are available for remote monitoring and diagnostics, automatic software updates and preventive maintenance aids.
Tecnau is also excited to partner with CTP Solutions on their Roll2Mail solution for inline or nearline production of pressure-sealed mail pieces, eliminating the need for envelopes. Stop by to learn more.
For further information, visit www.tecnau.com.