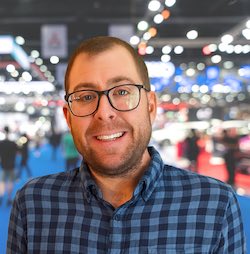 St. Paul, MN - WhatTheyThink, the leading global media organization serving the printing and publishing industries, today announced the addition of Adam Goldman in the role of Account Executive. Adam will be primarily responsible for sales and business development working with President & CEO Eric Vessels and Account Executive Stephanie Papp.
Adam also serves as an Account Executive with the Association for Print Technologies (APTech) where he was instrumental in the success of the first Amplify event in Minneapolis this year. He holds a Bachelor of Arts degree from the University of Iowa.
"We're really excited to have Adam join our team. His energy and enthusiasm for developing key relationships in the industry will help us greatly achieve our aim of being the go-to source for the global printing industry. Adam has already demonstrated a willingness to help, which is a part of the core WhatTheyThink ethos," said Eric Vessels, WhatTheyThink President & CEO. "Adam seems to fully embrace the long held company ethic of 'work hard-play hard'. We look forward to working with him to continue growing WhatTheyThink."

About WhatTheyThink
WhatTheyThink is the global printing industry's leading independent media organization with both print and digital offerings, including WhatTheyThink.com, PrintingNews.com and WhatTheyThink magazine versioned with a Printing News and Wide-Format & Signage edition. Our mission is to provide cogent news and analysis about trends, technologies, operations, and events in all the markets that comprise today's printing and sign industries including commercial, in-plant, mailing, finishing, sign, display, textile, industrial, finishing, labels, packaging, marketing technology, software and workflow.