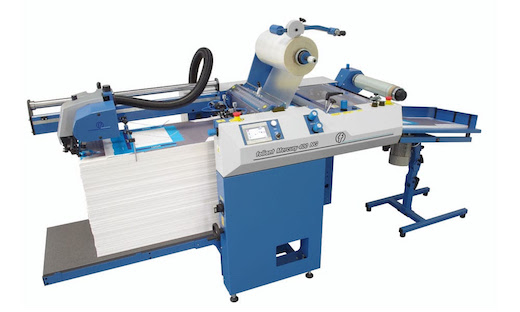 SOLON, OH — Graphco, a leading provider of offset, digital and print finishing solutions, announces that they will be running live laminating and foiling jobs at the PRINTING United Expo, which will take place October 19-21, 2022, in Las Vegas. As the exclusive distributor for Foliant laminating solutions, as well as the Midwest & Southeast Distributor for RMGT, Graphco will be demonstrating the Foliant Mercury 530NG laminator with foiling to demonstrate high value-add finishing.

"PRINTING United provides us the platform to showcase Foliant finishing with embellishments, which create an emotional appeal to a printed product," states Chris Manley, President, Graphco. "Our booth will highlight how Graphco customers in the commercial print market have benefited from The Unfair Advantage. Our technology demonstrations will feature the Mercury 530NG with an integrated pallet stacker in live operation to show just how impactful finishing embellishments can be to a printed project."

The Foliant Mercury 530NG is our high-capacity industrial laminator that is suitable for laminating digital and offset output at extremely high quality. Maximum speed is up to 88 feet/minute, which produces over 5,200 digital size sheets per hour. The Mercury 530NG has a foiling capability for metalized film (gold, silver, red, etc.) or spot varnish film. With the integrated pallet stacker, the Mercury feeds and delivers up to 21.7" of laminated sheets without any operator intervention. This frees the operator to also run other equipment while the Mercury does the work.
Foliant is the leading brand in both single and dual-side laminators, offering the most complete range of laminating machines on the market. Whether a packaging printer needs a high-quality and fast solution for high-end folding cartons in the 8-UP arena, or if a book printer is looking for a fast and consistent book cover solution, Foliant offers the right machine for every application.

Foliant's 8-UP solution laminates 28" X 40" sheets at up to 3,000 SPH and the 4-UP laminators handle 21" x 40"+ sheets while also running digital size work at over 10,000 SPH. Foliant's 2-UP machines provide a max size of 15.7" X 40"+ and the top-of-the-range unit runs digital prints at over 5,000 SPH.

Graphco will be exhibiting in the North Hall of the Las Vegas Convention Center Booth in #N802. For free registration to PRINTING United visit: https://bit.ly/GraphcoPrintingUnited