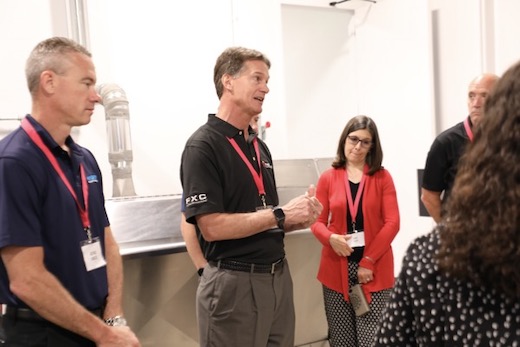 Mike Agness (left), HYBRID Software Executive Vice President, Americas, participates in a conversation during The FXC's opening event.
The company looks forward to taking part in industry-wide projects and research with other partners.
(Ghent, Belgium) HYBRID Software, the innovative software solutions provider for labels and packaging, is proud to announce that it is a supplier partner at the Flexo Xperience Center. The company was represented at the inaugural event in Atlanta, GA, USA.
The Flexo Xperience Center (The FXC), founded by MacDermid Graphics Solutions and SOMA, is the only flexography-focused center telling the story from design to post-print inspection. It brings the industry's best innovation providers together in one place. The center is a collaborative hub for pre-media suppliers, printers, converters, brands, CPGs, the educational community, and anyone interested to experience the best that flexo has to offer.
As a supplier partner in the premedia and prepress stage of the flexo process, HYBRID Software joins other companies presenting workflow solutions in image correction, color management, file preparation, and advanced screening, among others.
"We were thrilled with the turnout at The FXC's opening event. It is great to see industry suppliers actively bringing customers to see and experience the venue. Visitors were very impressed at the inaugural event. They had no idea of the extent to which resources are available to them," exclaims Mike Agness, HYBRID Software Executive Vice President, Americas. "Just as important was the industry camaraderie—people working together with others. It's a valuable opportunity for all of us to show how we can achieve integration among each other's solutions in an open, cooperative environment."
The center is a place to collaborate, research, experiment, and learn to achieve excellence in the flexo process. "We are excited that The Flexo Xperience Center in Atlanta will act as a collaborative lab environment for the industry to experiment new technologies and theories. It will allow us to move our development efforts internally at warp speed within a perfect non-disruptive testing environment," explains Agness. "With access to a SOMA press, and the help and power of MacDermid's chemists and lab technicians, the changes that can occur are greater than the eye can see."