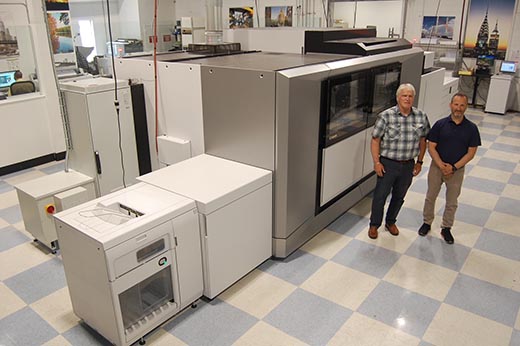 Emphasizing data management, data processing and personalized direct mail has helped keep Century Direct a thriving business in its 90th year of operation. The Long Island-based direct mail services provider continues to march towards its centennial anniversary by prioritizing customers' changing needs and providing unmatched service and support. To that end, Century Direct has teamed with Canon Solutions America to help push its business forward and meet the evolving needs of a complex and diverse customer base.
At the core of reaching what Century Direct CEO Mike Kellogg describes as "next-level production inkjet innovation" is the Canon varioPRINT iX3200 sheetfed color inkjet press, combining state-of-the-art image quality and a wide media range, as well as high productivity and attractive cost-efficiency of production inkjet printing.
Century Direct, a key player in the direct mail marketing business since 1932, uses its long-time, close working relationship with Canon Solutions America to stay in the know about the "latest and greatest" technology. That sense of partnership goes both ways, with Kellogg serving as a valued member of the Production Customer Council, a forum in which Canon Solutions America and its production print customers discuss industry trends, exchange best practices, and maintain an open dialog on the nature of the business. Century Direct has enjoyed success running two Canon imagePRESS C10000VP sheetfed color digital presses for many years, and when it came time to expand its fleet, Canon Solutions America was there to provide guidance and help them explore the benefits of inkjet printing. When the varioPRINT iX3200 launched in May 2021, the company quickly took advantage of the platform to help increase production speed and improve handling while keeping costs low.
"Technology moves quickly, and we felt that the varioPRINT iX was a perfect fit for our business," said Eric Seid, COO, Century Direct. "We found the transition to be virtually seamless. Since utilizing the iX as part of our fleet, we have been able to reduce our overall costs while simultaneously speeding up production. We are able to get pieces out the door quicker while not compromising quality in the slightest. We're excited to keep using the press and seeing just what it can do."
Technological advancements in the inkjet space have resulted in the ability to actionize data faster and more efficiently through print. As an example, itemized catalogues based on customers' likes and previous purchasing history can help ensure a company's in-roads into a market have a higher rate-of-return, since the data has indicated what is likely to be more meaningful to the customer.
To maximize what the varioPRINT iX series can do for its business, Century Direct has benefited from the tools and resources offered by thINK, an independent community of Canon Solutions America production inkjet customers. thINK is designed to provide a forum for members to network, educate, and access tools, training, and resources. The platform offers ongoing education and development, including an online academy filled with informative classes and seminars on topics including production, sales, and vertical markets.
A commitment to innovation can be a difference-maker to a company in the current market, where labor is in shorter supply and logistical and supply chain issues persist. According to Kellogg, it is the company's ability to quickly adapt to changing needs after decades of research and experience in the field that has enabled its workforce to truly be tops, bar-none.
"The fact that we continue to invest in innovative technology backed by a strong, knowledgeable company like Canon Solutions America, continuously proves to our customers that they are in the best hands and have a bright future with us. I think that's a very important thing to emphasize," Kellogg said. Reflecting on the long history of the two companies working together through transitions in printing technology from offset to digital toner and now inkjet, Kellogg continued, "We are excited for the future and what's to come from Canon and for our industry."
"The varioPRINT iX-series press can help give customers increased flexibility by providing more media options and faster turnaround times, and it's rewarding to see that its capabilities have been helpful to a customer such as Century Direct in maintaining high productivity and efficiency," said Francis McMahon, executive vice president, Production Print Solutions, Canon Solutions America, Inc. "To maintain a thriving business for almost a century requires the ability to adapt and innovate, and we're happy to be part of Century Direct's continued success."