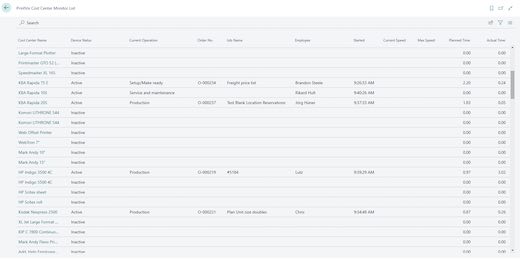 Cost Center Monitor List
Make sure you have full control of all stages of your print jobs
Atlanta – Every print production manager knows that the shop floor is where the rubber meets the road. Your production manager or others in charge of daily planning want to be able to know what is going on where. What job, which cost center, which stage of production, which of your employees is doing what, and the job's current progress.
Knowing how your jobs are running compared to how they were estimated you will accumulate the ability to optimize your operations, serve your customers even better, and ensure a healthy profit to survive and thrive.
In PrintVis, a Cost Center is characterized as a machine, function, workplace or even a person working at a fixed, hourly rate. Your printing presses are Cost Centers. So are your folding/gluing machines, your cutter, your perfect binder, and the table in the hand-fulfillment department that is manned with individual people.
PrintVis provides central control over your entire printing operation, and the Cost Center Monitor List gives an overview of all your Cost Centers and their current production status – on a page that updates every minute.
It includes imperative fields for an at-a-glance overview of print production: Device Status, Current Operation, Order Number, Job and Employee Name, the time the operation was started, current and maximum speed of the device, and the planned vs. actual times of the job. The Cost Center is a central part of PrintVis and is closely tied to calculation and planning, all the way through your workflow to job costing and other statistics.
While we all love the journeyman craft of your staff, the insistent hum of your machinery, the colorful, indelible aromas of the inks and coatings, it cannot be denied that when it comes to understanding the health of your business, it's the numbers that count. A primary strength of PrintVis is in its calculation abilities, so you know how your jobs are running. When opening a cost center that has MOXA/JDF connectivity there is an added speedometer to show the current speed of the machine.
The Shop Floor module retrieves data on consumption of goods and time directly from your production and posts the information to each production order in real-time. This grants you an updated status of every order in your production and your available machine capacity.