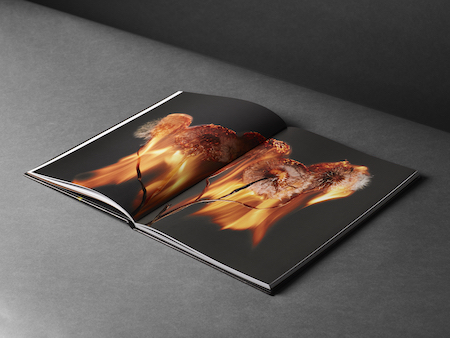 The publication marks another creative collaboration between Rankin, SEA and the leading specialty paper producer
London UK: Following on from the success of his publication 'Embrace', renowned photographer Rankin unveils his latest publication 'An Exploding World'. The new book journeys both the artist's personal struggle and the collective challenges faced in the midst of multiple lockdowns - expressing a sense of the isolated periods through a series of nature photography.
In a second partnership with luxury paper specialist Fedrigoni and creative agency SEA, Rankin materialises an artist's expression of mental health by exploring a relic of his childhood - the dandelion - combusting over time as a morphication of his wellbeing.
Simon Pilkington, Managing Director of Fedrigoni UK commented: "Our alliance with Rankin and SEA has been a true demonstration of the creative ecosystem working in harmony. When it was time to collaborate again, we were very proud our materials could contribute to such a personal and introspective project for Rankin. Seeing the powerful and vulnerable imagery, a metaphor for mental health, be brought to life in this book is something we feel honoured to be a part of."
For this book, Fedrigoni consulted SEA and Rankin to select contrasting textures and tones for the book to distinguish the imagery from foreword. Symbol Tatami White was used for its quality finishing for the litho printed imagery, while the robust texture of Sirio Color Rough Jasmine was used as interludes to the book's page-turning exhibition - spotlighting Rankin's experience during the production stage through a series of quotes.
A striking representation of the emotional impact of Covid-19, 'An Exploding World' is a commercial publication celebrating the freedom creativity allows artists to materialise their wellbeing. Rankin cites this follow-up as an artefact of embracing working alone, and taking back a sense of control that lockdown imposed on creatives. Under the jurisdiction of isolation, the photographer was left frustrated, but exploited the time it gave him to convey his feelings through natural imagery.
"When fire burns through a forest, the old growth burns away to allow space for new forest to emerge. Through burning these dandelions I was clearing space mentally. Finding a new outlet for my creativity. I think most photographers will photograph flowers at some point in their career, and it became incredibly fulfilling to work alone studiously and hone my craft in a way I hadn't in years." - Rankin
Fedrigoni UK hosted An Evening with Rankin, a Q&A with the photographer and founder of SEA, Bryan Edmondson. Bringing together a private audience of the creative community on the evening of 16th of June, where Fedrigoni encouraged invitees to use this time to reflect on their experience of the then and now - painting a mural of people's feelings through Sirio Color paper.
Bryan Edmondson, Founder and Creative Director of SEA added: "Each of the books we produce together aim to be different. Different in layout, typography and format however there is one thing in common - keep the images big, simple and beautiful. It's all about the images and how we can play with editorial design using the wide platform of Fedrigoni papers. Type has to work with image and the choice of font is key along with paper. Having the continued creative support of Fedrigoni is vital, they see value in the work and collaborate closely with the choice of paper from early design stages to print proofs."