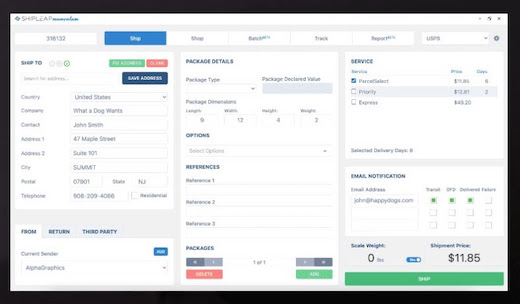 Cloud software solution simplifies the shipping process interfaces with MIS systems while drastically cutting labor, label and distribution costs

NEW PROVIDENCE, NJ – With rising postage costs, lean staffing concerns, and an ever increasing demand for parcel distribution, ShipLeap announces a solution. ShipLeap Momentum, first introduced in the middle of the COVID pandemic, is a unified shipping management software tool that coordinates a service provider's parcel distribution needs, while drastically reducing user interaction, as well as labor and postage costs. Designed and engineered by a commercial printer for commercial service providers, ShipLeap simplifies and automates tasks such as label development and printing, rate shopping to maximize cost-savings, and MIS integration to simplify and accelerate the shipping process.

"We believe there is a better way to ship packages -- a faster, more dynamic and less carrier-dependent way where companies can have all the information they need at their fingertips," notes Founder and CEO Michael Tan. "We're passionate in our mission to help businesses streamline the shipping of parcels up to 50 pounds. Without the right technology, it's impractical to connect to MIS systems and compare various carrier rates live, particularly for companies that do high-volume shipping. We saw an opportunity and developed our own shipping software. Tested and proven in our own operation, we've begun marketing ShipLeap Momentum from coast-to-coast."

Specifically designed for the service provider with as little as five packages a day, ShipLeap starts paying for itself immediately. Most users have integrated the desktop software for less than $100 per month, and most report a learning curve of less than an hour. That's because ShipLeap incorporates the latest technology, including barcode scanning, automated address importing, gang label printing, and carrier rate shopping that allows the user to ship more in less time, maximizing profits. And the system keeps recipients informed of ship dates and arrival schedules, elevating the user's brand and professionalism. ShipLeap even allows packages to be tracked from smart phones (iPhones and Androids). In addition, ShipLeap connects directly to popular printing MIS systems, such as PrintSmith Vision, Printer's Plan, QuickBooks, and Four51.

Truths from the Trenches

"ShipLeap has streamlined our shipping processes and made our day-to-day operations flow smoothly and efficiently. The ability to compare shipping prices in one dashboard has saved us tons of time and money, and our customers love the branded email notifications with tracking," stated Kari-Ann Smith, AlphaGraphics (Wilmington, NC).

"Our staff loves ShipLeap! Instead of uploading the address CSV files to WorldShip, we were able to upload the entire spreadsheet and print all the labels at once. I was able to export a CSV file that included all the tracking information and costs. This easily saved us four to five hours of time," added Sam Manci, Allegra Marketing, Image360 (Tampa, FL).

PJ Bobo, Allegra Printing (Winston-Salem, NC) submits, "In a short amount of time, ShipLeap has proven to be a valuable shipping software for our company. The program is user-friendly and a great timesaver. The program integrates smoothly with PrintSmith, allowing for minimal manual data input. Clients are automatically notified of their shipment details with an Allegra-branded email. Truly a fantastic product."

Instantly Finding the Right Carrier

ShipLeap makes rate shopping easy while shopping shipping rates with UPS, FedEx, and about 90 other carriers. According to a recent article in Mailing Systems Technology, "Not Rate Shopping Multiple Carriers and Service Levels" was one of the top common mistakes impacting the bottom line of service providers. The article stated, "The line 'we have always done it that way' cannot hold true anymore, and using one carrier can no longer be accepted. Many packages that were shipped through private carriers may be less expensive with the USPS and vice versa. Even within a carrier, rate and service levels need to be explored." According to industry analysts, rate shopping with multiple carriers can save anywhere from 4% to 12% on average, per parcel.

Availability

To sign up for a Live Demo, go to https://calendly.com/shipleap. ShipLeap is currently available throughout the United States. Go to www.shipleap.com for more information.