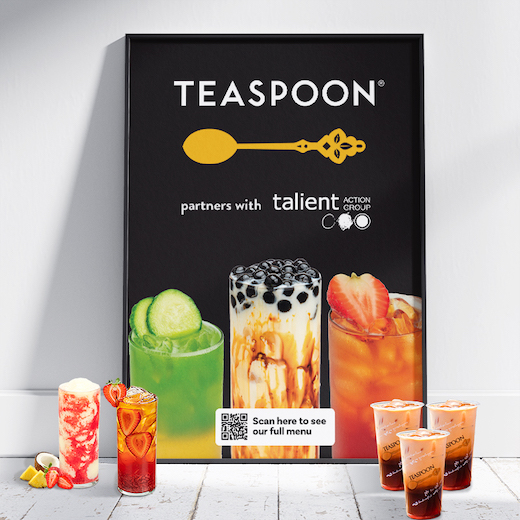 MANCHESTER, NH—Talient Action Group announced their partnership with Teaspoon Life, a tea and boba shop headquartered in California with locations across the United States. Teaspoon Life, like many rapidly growing franchises, was faced with challenges in managing print materials for retail POS, grand openings, and direct mail. Teaspoon life contacted TAG to help overcome the challenges. Talient Action's reputation in the market for leading technology combined with digital print capabilities has positioned them as a go-to market resource for franchisors.
When Teaspoon Life opened, they had only a few locations. Their successful franchise has rapidly expanded to thirty locations, and they are still growing at a rate where they need help! Talient Action streamlined many marketing operations such as the creation of grand opening kits including print materials such as retail window posters, coupons, window clings, and more. Most important was the ability to decentralize the buying responsibilities while still controlling budget and brand equity athe corporate level. Additionally, the ablity to consolidate all marketing material purchases to one, online system makes order management a breeze. The franchisees no longer need to search for promotional giveaway items, pop-up tents, printed bounce back coupons or anything. Franchisees can easily locate the products, review existing artwork, and place orders – all with the benefit of a protected brand impression and knowing the best price has been negotiated.
Talient Action Group's Web2Print solutions help franchises and multi-location businesses protect their brand, save money, manage inventory, decentralize ordering while centralizing the online approvals of their print materials, and Web2Print makes ordering stress free. Allowing franchisees to localize items like menu selection, pricing, and promotions, removes the need for countless rounds of proofing and revisions. Once approved, TAG guarantees production and shipment of product within in 48 hours making the process automated, and shipment across the US efficient.
"Our Web2Print services will give multi-location businesses the tools they need to make managing print efficient while driving happiness." - CEO, Sean Owen