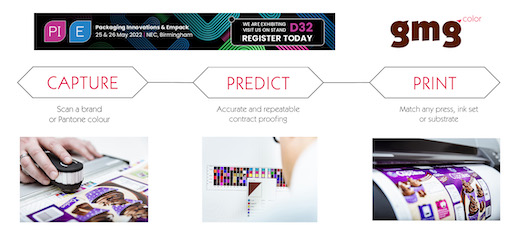 See end-to-end colour management in action on GMG's stand, D32, at Packaging Innovations, NEC Birmingham, 25 & 26 May 2022.
GMG will be running live, interactive demos throughout the show: Scan in a colour, run an accurate contract proof, print the job and compare the results in our light booth. You can also see the same job remote proofing on a live stream to the GMG office.
On the stand, prints will be run on a 4-colour digital label printer, but the GMG ColorServer solution means that no matter what press type, ink set or substrate, print jobs can be switched easily between presses and sites, with predictable colour results time after time. Be that a digital device using CMYK + OGV inks on labels or a conventional press printing CMYK + spots on corrugate.
Visitors can find out more about the GMG ColorServer solution for automated colour conversion, which includes accurate spot colour separations through GMG OpenColor, and dedicated ink optimisation tools. Available for conventional, digital, hybrid and multicolour processes, the latter solution - GMG ColorServer Multicolor - enables conversions from any industry or custom profile up to 7C (+ spots) to any printing press 7C (+ spots). So it can be used to simulate any conventional printing process including spots on a digital device, or print using the maximum vibrancy of digital. The GMG OpenColor connection provides optimum spot colour separations into the 7C colour space.
Plus, you can see how our colour-accurate contract proofing solution provides the best spot colour reproduction in the market and repeatable proofs due to powerful profiling capabilities. Together, the products on show provide a centralised colour database that can be accessed from anywhere and which uses the same data for profiling, proofing and conversions to ensure accuracy.
Come and scan a colour to see for yourself how GMG colour management works. Register for your free ticket to Packaging Innovations & Empack here.