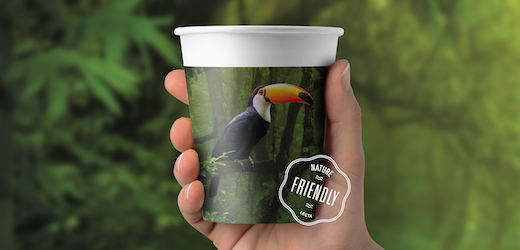 According to the Italian Aticelca 501/19 system
EraCup Natural is a totally recyclable, biodegradable and polyethylene-free paperbased solution for paper cup manufacturing. Its effectiveness has been proven in the most widely-used converting machines.
EraCup Natural is the first product in Lecta's new "Era" range of functional papers for nature-friendly packaging aligned with responsible consumption habits in which each decision matters.
EraCup Natural has recently obtained the concession of level A according to the Aticelca ? 501/19 system based on the UNI 11743:2019 standard. This standard is in accordance with European norm EN 13430 - Requirements for packaging recoverable by material recycling.
Level A (Aticelca ® 501/19) means that EraCup Natural is recyclable with paper effectively and efficiently, both from the technological and economic point of view, when used in the most widespread paper production technologies, mixed with other secondary fibers obtained from separate paper collection. Its recycling involves less than 10% waste.
Choose EraCup Natural, the totally recyclable paper-based solution for cups, specially designed to protect nature and promote a circular economy. Each small choice is a big step towards creating a better world.
For more information about new EraCup Natural's recyclability concession, please visit www.lecta.com, www.aticelca.it and www.riciclabileconlacarta.it.