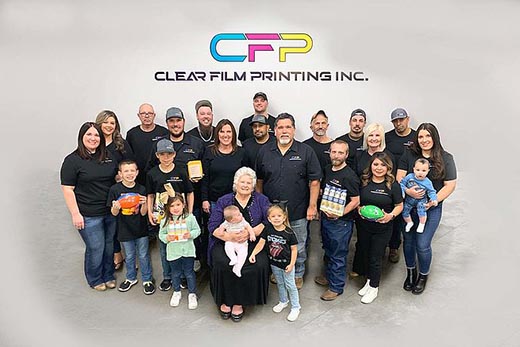 The key to Clear Film's success is the strength and commitment derived from its strong family and co-workers. Daryl Olivarez, (first row standing, third from right) president of Clear Film, is next to his wife Deanna Olivarez (first row standing, fourth from right) and surrounded by generations of the company and his proud co-workers. The next generation is holding some of Clear Film's products.
Leading Kaufman, TX film converting printer prides itself on quality, innovation, and service
New workhorse CI press will provide higher print production, additional capacity, decrease turnaround time, and more color capability
Management believes new Evo XC Max flexographic press will double Clear Film's productivity
First new Koenig & Bauer Evo XC Max Mod 127 flexographic press investment will ensure continued growth in the fresh food industry
For the past 40 years, Clear Film Printing has been building its reputation as the go-to specialist of flexible packaging mainly for the fresh food industry. Operating out of its manufacturing facility in Kaufman, TX, the family-owned firm provides unique stretch film and overwrap printing on films such as Cryovac, Clysar, Red Rock Films, Bollore, Berry Plastics, and Vanguard. Its expertise lies in printing on very low gauge film that wraps and protects meats, poultry, and other fresh food produce items.
But in recent years, the management team at Clear Film was challenged to expand its capacity and modernize its pressroom due to growth in the food market and the demands of its customers. Its solution was to replace its older equipment and invest in a new Koenig & Bauer Evo XC Max Mod 127 flexographic press.
"When the new Koenig & Bauer Evo XC Max arrives at our facility, we'll be stepping into the future," says Daryl Olivarez, president of Clear Film. "It will give us a clear advantage in higher print production, added capacity, decreased turnaround time, reduced set-up times, and increased print quality."
The new Evo XC Max press will vault Clear Film Printing to faster and more efficient manufacturing and will soon pay dividends for both the company and its clients. Olivarez and his team have seen a trajectory of printed shrink film becoming a popular marketing material for brands that require eye-catching full color graphics without the need for an extra label. Its current presses are equipped as six-color models that can slow the process due to long changeovers. The new Evo XC Max will be equipped with eight colors giving Clear Film's customers the ability to develop and design eye catching flexible film wraps for retail sale, while keeping in mind all the regulatory requirements that must be met.
Olivarez chose the high-performance Evo XC Max CI flexo press due to its small footprint and space-saving solution for his facility. With an increased print repeat ability and high printing press speeds, the Evo XC Max will provide Clear Film with its solid machine engineering as well as its intuitive HMI, completely new dryer concept as well as the latest digital Industry 4.0 features and considerable energy savings at the same time.
Olivarez believes that the new Evo XC Max will enable his skilled operators to further master all things flexible packaging and apply its private trade secrets developed over the years.
"We looked at other flexible press manufacturers," says Daryl Olivarez, president of Clear Film. "But we chose Koenig & Bauer due to its strong commitment to our customers and our own manufacturing needs, its prior experience with flexible printers and stretch films, and its quick driving proximity to our location. This will be our workhorse press. It will give us more diversity and more opportunities to capture additional customers."
Interesting website: www.clearfilmprinting.com