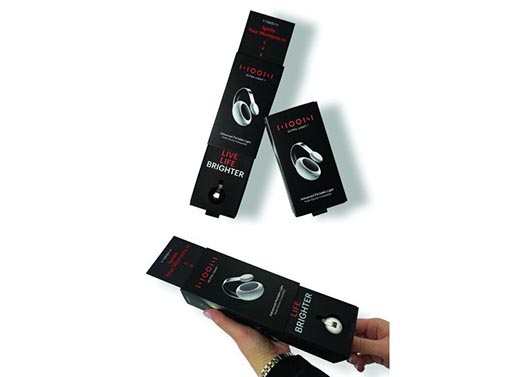 This photo shows three Burgopak Slider packs in a black finish with moon written in red. It showcases the Moon Ultra Light design; a mobile lighting accessory.
London, UK – The GDUSA Annual Awards showcase the best in show of Marketing, Packaging and Graphic design from around the world. Despite these trying times we've witnessed great design and continual innovation in this field with strong drive to promote meaningful customer engagement and a call for inclusivity and wider social representation through packaging design.
Packaging designers at Burgopak are leading the way, taking home three awards at this years GDUSA 58th Annual awards in partnership with Stephen Gould and clients Knab and Moon Ultra.
Working closely with Stephen Gould, pioneering creative studios and client managers for Moon Ultra, together they designed the innovative and captivating packaging design for MOON Ultralight 2 this season's must-have mobile lighting accessory to keep your content brighter than ever. The chic and minimalist product design is mirrored by every form of the packaging, from the sleek sliding mechanism, famous to Burgopak studios, to the luxury and tactile ribbon pull complimenting black core board, white ink detail and matt lamination finish.
The product oozes luxury inviting consumers into an elite club empowering consumers and creators to look their very best and feel comfortable all at once.
Promoting a different way to bank – the second awards recognises work with Knab – a young online bank in The Netherlands. Founded on the belief that things must be done differently in the financial world. Knab focuses on digital innovation, human service, and transparent service provision. Their name says a lot about what drives them. They flipped the script on other banks – quite literally (bank - knab) and they do things differently. Right from the start of the customer experience, Knab welcomes new customers in a positive and surprising way. No standard, boring letter but with a warm welcome with a human touch.
Presented in an optimised cabrio design, the packaging is both inviting and intriguing. At the pull of a tab the cover appears to move upwards to hide within the pack while simultaneously extending the inner tray to unveil the bank card in an eye-catching and inviting product presentation. The packaging is more than a vessel for transport but an extension of the customer experience, invoking thought and leaving a strong and lasting impression that the customer experience matters. Compact and easy to open, product retrieval is simple and the message, welcoming, and engaging.
Last but far from least the third award goes to Burgopak for a B2B campaign encouraging more inclusive design in the loyalty and incentives sector during Pride month 2021 entitled: Design for Everyone. Be Part of the Change.
Addressing the industry trend to genderise gift card design the campaign did away with stereotypes and gendered colour palettes to explore the wider potential for inclusive design.
Designed with four CMYK punchy colours for the carrier, and seven gorgeously vibrant pronoun gift cards, the packs reflect the excitingly diverse and beautiful nature of the LGBTQ+ population - that no person need be limited by out-dated expectations. With messaging and pronouns displayed in holographic foil, the packs are a true celebration.
Complimented with an array of occasions, the designs support the message that gifts can be for any occasion, for anyone and brought to life in the Burgopak classic coupe packaging. Combined at random to create a rainbow array, each card and carrier celebrates a special occasion for a randomised pronoun, breaking the stereotype that any one person might expect a specific colour or needed occasion to celebrate, while in each card slot with be the holographic foil "For everyone".
If you'd like to learn more about Burgopak packaging or receive a sample from Burgopak's ever growing innovative packaging range, reach out on [email protected].