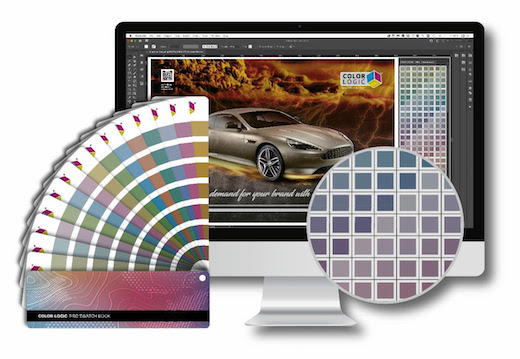 Some Examples of New Color-Logic Metallic Colors.
Color-Logic Swatch Book Files with 924 Metallic Colors Included
West Chester, OH, USA--Color-Logic--the world leader in metallic color systems and print embellishment--has added 644 new colors to the Color-Logic metallic color system. The new colors bring the total Color-Logic colors to 924, of which 55 are golds. A key element of the gamut expansion is the inclusion of the blues, greens, violets, and browns so popular with brands today. All 924 Color-Logic metallic colors can be printed using only five inks or toners: silver ink or toner with CMYK on conventional substrates, or white ink or toner and CMYK on silver-based metallic substrates.
Because graphic designers prefer to work with proven colors, Color-Logic provides licensed printers, at no extra cost, files with which they can produce their own Color-Logic swatch books. Providing Color-Logic swatch books to graphic designers, agencies, brands, and corporate marketers lets them see and select any of the 924 metallic colors that can be produced without trial or error.
Discussing the new colors, Color-Logic Director of Sales and Marketing Mark Geeves said: "Together with Color-Logic embellishments, our 924 metallic colors provide graphic designers with unlimited ways to differentiate their clients in print. Already, Color-Logic licensed printers provide brands with economical, quick-turnaround work, and these new metallic colors only broaden the possibilities."
Color-Logic™develops color communication systems and software tool sets for a variety of special effect printing applications. Color-Logic provides brand owners, product managers, corporations, and their advertising agencies the ability to differentiate themselves and their clients with a simple print production process that yields dramatic results. Color-Logic decorative effects utilize the existing workflows of printers and designers, yielding dynamic results without the use of special equipment. Color-Logic supports the value of print and works with designers and printers to enhance their printed media. For more information, visit www.color-logic.com or call +1-513-258-0047.