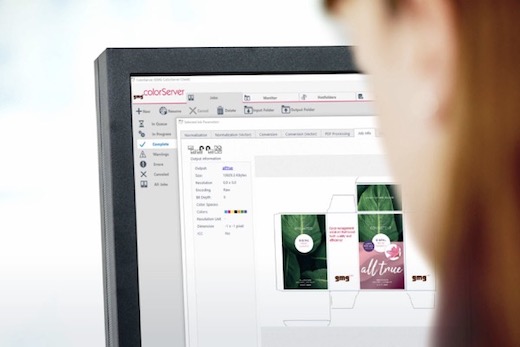 Hingham, MA – GMG, the leading developer of high-end color management solutions, announces that it is a Gold Sponsor, exhibiting at the Printing United Alliance COLOR22 conference, January 22-25 at the Hilton La Jolla Torrey Pines near San Diego Airport, CA. Attendees will have the opportunity to have face-to-face opportunities to discuss all facets of color management with GMG color experts.
COLOR22 features 25+ dynamic sessions presented by top color experts that will help attendees take their color skills and knowledge to a new level. GMG will actively participate in the conference's program. Birgit Plautz, Manager of Technical Services for GMG Americas, will be participating in 'Standards Today and Tomorrow' a panel on Monday, January 24, from 3:30 to 4:20pm. Much work goes into the development of color standards for the industry. However, not everyone agrees on which are most important, how they are best implemented, or when they need to be implemented. In this panel discussion, panelists will discuss today's trends, technologies, standards development, and how it will affect color management in the future.
Marc Levine, GMG Americas Director of Business Development, will be presenting 'How to Accurately Communicate Brand Color Specifications and Tolerances Visually Across All Types of Print with GMG Color, Sunday, January 23, on the main stage during the COLOR Tools Breakout Track.
During break-out one-on-one conversations, GMG will focus on products that assure that the color specified is the color that is reproduced — no matter the print process. For example, GMG ColorServer allows printers to both optimize color for different kinds of print, and match color across different print technologies. The suite of GMG ColorServer bundles are tailored specifically for different customer applications: GMG ColorServer Digital, GMG ColorServer Conventional, GMG ColorServer Hybrid and GMG ColorServer Multicolor. The different solutions offer focused features and benefits for digital printing with both CMYK and multicolor presses, conventional printing, and people who print cross-process using spot colors – especially for packaging.
In addition, GMG will demonstrate a number of newer and time-proven technologies, including:
GMG ColorBook: It's easier to specify the right color when you can see an accurate sample directly from the press. GMG ColorBook allows print providers to create digitally printed color simulations in a familiar color guide format. GMG ColorBook is a solution for creating color simulations and custom brand colors based on a precise set of real print conditions. It delivers the real expected color of a printer's own press, in its production print condition, using production inks on the production substrate. It can be used internal for quality checks, shared with the print buyer to set color expectations, and can even be used upstream in the design process to aid color selection.
GMG ColorCard produces "digital ink drawdowns", which offer an accurate visualization of a spot ink on a production substrate. Unlike traditional analog drawdowns, color cards are printed digitally, making them fast, accurate, and repeatable. GMG ColorCard allows users to create digital drawdowns in less than three minutes, saving up to 90% of the time that is currently required by conventional drawdown production. It is an InterTech Technology Award recipient and a Label Industry Global Award for Innovation winner.
GMG ColorProof has been the preferred solution for efficient and safe contract proofing for years. GMG OpenColor is also a past InterTech Technology award recipient. With the increasing use of multi-color printing and different combinations of inks, substrates, screening and other variables, GMG OpenColor can precisely predict the interplay between them.
"Color specification is the cornerstone of accurate color management. To be successful, print providers must accurately predict and reproduce the colors that brands specify," comments Marc Levine, GMG Americas Director of Business Development. "Color22 is the color management event of the year, attended by those who regard color production extremely crucial. It gives GMG an excellent opportunity to discuss color reproduction in a group environment and assist during one-one-one conversations. We look forward to helping printers and print buyers assure that every requested color is printed to specification."
For more information about GMG, please visit www.gmgcolor.com. Those interested in registering to attend COLOR22 can visit https://color.printing.org/.