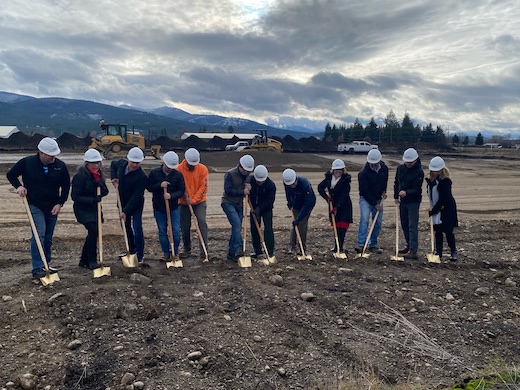 Harris & Bruno President Nick Bruno (6th from the left) breaks ground on the new Idaho campus
Post Falls, Idaho- Harris & Bruno International has had exceptional growth due to an ongoing demand for high-quality coating and print equipment. In December of 2021, H&B broke ground on a new 10 acre site for their new manufacturing facilities in Post Falls, Idaho. The first phase of the project is a $7M venture that includes a 25,000 sq. ft. building and associated land for future buildings. This initial building will allow for additional manufacturing equipment, resulting in faster production of in-demand equipment. The first phase of the new facilities will be complete in late 2022.

Not only will this location further support the print industry, but it will also provide more jobs for those wanting to get into the manufacturing business. President Nick Bruno is excited for the expansion and looks forward to continuing to push Harris & Bruno to new limits, all while staying an industry leader.

Post Falls will be H&B's second manufacturing location, next to Roseville, California, and compliments our international sales and service offices in Germany, Japan, and China. Future plans for the campus will include two more buildings on the property to further meet the demands of the print industry.
About Harris & Bruno
Since 1948, Harris & Bruno International has always focused on delivering innovative solutions for the printing and coating industry. Today we continue to lead the industry with the most automated and reliable coating and inking systems in the world.