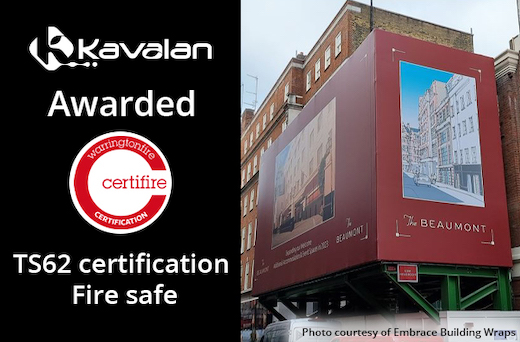 Fire safe banner and building wrap material manufactured by TAYA
CMYUK – CMYUK, the exclusive distributor of PVC-free Kavalan in the UK and Ireland has announced that Kavalan Sunlight Weldable Frontlit Banner and Kavalan Spiderweb 300 Mesh Banner have both successfully passed the stringent Certifire - TS62 certification programme.
Certifire - TS62 distinguishes PVC-free Kavalan building wrap materials from any competition. These products will now bear the Certifire mark and once printed, can be used on any scaffolded buildings and construction sites, along with the many other promotional and branding applications for which banner and mesh are used.
Certifire is an independent third-party certification scheme that assures performance, quality, reliability and traceability of products and systems. It is recognised by regulatory authorities worldwide as an international mark of fire safety across a diverse range of products. The undisputed global industry standard, it helps to differentiate products and processes from non-certified equivalents and dramatically reduces risk. The scheme is operated by Warringtonfire in accordance with the requirements of BS/EN/ISO 17065 for product certification bodies.
The Certifire - TS62 scheme guarantees that temporary printed protective coverings used on construction sites have the highest level of fire protection and comply with stringent safety performance specifications.
"The Kavalan range is very impressive and renders traditional PVC banner obsolete. Not only now has it been given the ultimate fire certification but it also passed the BS 3424 pt. 4.6 tensile strength test. TAYA, the manufacturer of Kavalan has also put it through the rigorous LCA (Life Cycle Analysis) programme to measure its environmental impact. Kavalan makes the switch from traditional PVC very compelling," said Michael Crook, CMYUK, Business Development Director, who added, "It delivers on strength, performance, safety and the environment. With fire safety for construction now uppermost on the agenda, anyone involved in this activity will need to specify materials that evidentially demonstrate they adhere to robust certifiable standards."
Matthew Dale, Principal Certification Engineer, Warringtonfire, the organisation that carried out the Kavalan certification audit with TAYA said, "Certifire has become the industry standard for fire safety certification, even where there is already a mandatory market requirement such as CE marking. Choosing Certifire means choosing the mark of a reputable third-party certification body, and gives assurance as to the performance of the products, and we are delighted to bestow such a well-deserved accreditation on Kavalan Sunlight Weldable and Kavalan Spiderweb 300."
Vincent Lin, V.P TAYA Canvas said, "Kavalan is upholding its reputation as a trailblazer, setting our products apart by acquiring the respected Warringtonfire Certifire certification, which will become a mandatory requirement for scaffolding and building wrap projects in the future.
"We are always looking for ways to substantiate the quality and sustainability of the Kavalan range from our rigorous Life Cycle Analysis (LCA) assessments, to the development of the industry's first eco calculator for large-format banner materials, and now Certifire - TS62 for Sunlight Weldable Frontlit and Spiderweb 300 Mesh banners, all of this compounds Kavalan's unrivalled value proposition."