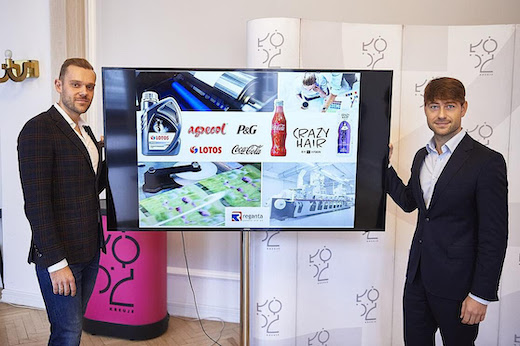 Owner and President of the Reganta Szlasca SP. J Igor Szlaski (left) and Vice-President of the Lodz city - Adam Pustelnik (right)
Combining creative energy!

More innovative printing presses, 50 new full-time jobs, dynamic development and foreign expansion are among the current plans of Reganta, the printing company based in Lodz, Poland, which was started in 2013 and already employs 75 staff. This ambitious programme is key to the future growth of the company's customer portfolio, and of strategic importance to the local business community. Reganta has always chosen to use Mark Andy flexo presses and two more will be installed early in 2022.
As a converter that has always specialised in flexo labels and packaging using foils and laminates, Reganta owner Igor Szlaski explained: "Currently we're one of the most innovative printing companies in Poland, supplying the major local and international brands. Having carefully watched the market trends, we now offer out-of-the-box solutions supported by the most modern technology."
Highlighting the creative energy of the company's hometown of Lodz, where Szlaski says he will grow the business and employ the local and talented workforce, he points out that the company is well placed to offer a rapid-response and complex service to its customers from pre-press to final delivery. Now the target is to build as strong and effective relationship with the brand owners and consumers.
"Mark Andy has been a close partner in our development over the years," he added. "Its solutions have been the foundation on which we have built our production equipment. Soon we shall be adding two of Mark Andy's latest machines, which will significantly increase our capacity and performance as well as further improve the quality of labels produced here at Reganta. This latest round of investment will also allow us to expand in the European market and create new jobs. In the first quarter of 2022 we plan to employ an additional 50 full-time employees," he stated.
In November, Reganta co-hosted a special press conference organised in the municipal offices of Lodz. "We're very pleased with new activity of all the companies in our city," commented Adam Pustelnik, Vice President of Lodz. "We're also happy that our local businesses are doing well, growing, modernising and investing in the latest innovative solutions."
Reganta is the best example of this and has raised huge investment funds to create one of the most modern equipped plants in its area of business. This strengthens the development of creative industry that forms the historical strength of Lodz. Reganta is part of the strong printing heritage in the region, and its dynamic growth will grow it business in new European markets and with the global brand owners.
"I sincerely hope this is not the last time we hear from the management team at Reganta, and that in a year or two it will create dozens or even hundreds of new jobs. I encourage people to gain a bigger interest in the printing industry in general, and consider finding employment at Reganta," he added.
According to Szlaski, the new full-time jobs the company is planning to create will be a big challenge but will also bring great satisfaction because Lodz needs innovative industry and new opportunities. "We're convinced that our growth will bring benefits to the development of the city and region as a whole," he said.
Reganta has always chosen international, well-established brands as its business partners because it believes they offer the highest quality solutions. Mark Andy is one of these, and its narrow web flexo presses have been the production base at Reganta since the beginning. Currently, it has four Mark Andy 17-inch (430mm) Performance Series P7 presses that were purchased in 2019, and two 13-inch (330mm) Performance Series P5 models, along with a Performance Series P3 and a Scout.
Speaking for Mark Andy, Executive Vice President Tom Cavalco concluded: "We're proud to support Reganta at such an important time in the company's history and help to shape its future growth. We believe our innovative presses, which will be delivered in the first months of 2022, will enable further dynamic development of the company, and we wish them well."