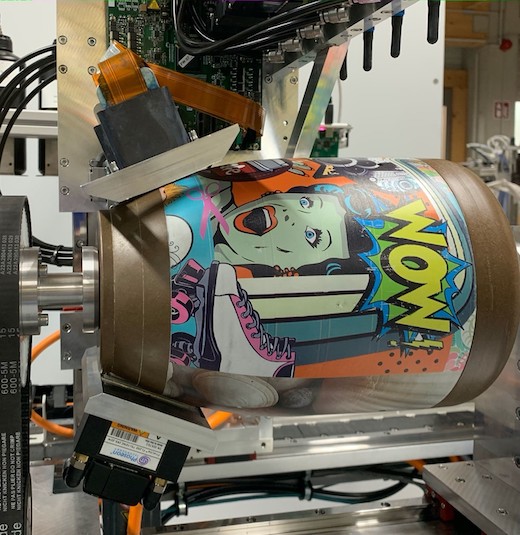 Inkatronic's Contour Jet tackles tricky convex and concave print areas to deliver smooth and consistent personalised designs on decorative urns
Since 2018, Global Inkjet Systems (GIS) has partnered with Austria-based industrial inkjet integrator, Inkatronic, supplying a range of top-quality GIS drive electronics to complement prototype and commercial inkjet printing systems.
Founded in 2017 by CEO Georg Boedler and located in Leonding, Austria, Inkatronic offers a distinctive brand of expertise, developing specialised inkjet printing systems for a host of commercial and niche industrial applications such as housing components, concrete slabs, garden tiles, ornamental urns and more.
One of Inkatronic's key strengths is its Prototyping Centre, providing high-quality print testing and production of small print quantities to coordinate primer, ink, and topcoat to develop the right specialised printing system.
With expertise developed over more than two decades in the inkjet printing industry, both in Europe and South America, Georg has applied his specialist skillset in mechatronics, chemistry, production, and design, as well as those of his Inkatronic team members to develop a range of innovative technologies. Most recent applications include decorative ceramic urns and concrete slabs, as well as two independent sustainable housing designs in Austria and Ecuador.
"To say our work is unique is an understatement," declares Georg. "Every customer with whom we partner has a specific printing requirement that needs thorough understanding, investigation and testing. Our focus is always on printing process optimisation, ensuring reproducibility and precise quality & colour management and, whether it is enhancing an existing product or delivering a turnkey solution from scratch, the attention to detail is the same."
Innovation and Enhancement
As Georg points out, there are several variables involved in each application, so that finding a stable solution means providing qualified expert advice and top-quality components every time: "For example, the Ecuador housing panel project required a brand-new system developed to decorate four-metre PVC profiles for interior design elements in single-pass, and the Austrian project needed a solution for an inkjet-applied wood protection layer and colour printing on 16m x 4m cross-laminate timber panels. Both had unique requirements according to the design and desired application, and we were able to apply our knowledge to recommend the correct coordination of chemistry and manufacturers for pre / post treatment and printing, as well as embark on in-house testing in our Prototyping Centre to provide test prints and a final system to meet all print requirements," he states. Another example that Georg describes is from a customer who produces decorative urns. "We were approached to provide an automated solution that improved on the existing hand-painted process and delivered a swifter application and route to market. The challenge here was to address the tricky convex and concave print areas and ensure a comprehensive ink coating all round. We investigated several inkjet options and collaborated with GIS and other inkjet industry partners to develop and test a compact jet system for the customer. This prototype, which we called our Contour Jet, has proved highly successful, and we are now working on an upgrade of the original design to include a three-axis printing system for improved cover and technique printing. Part of this development is a recirculating ink delivery system, capable of maintaining the ink supply under constantly changing jetting directions as the inkjet head, mounted on a robotic arm, moves and jets at different angles."
Besides prototype projects, Inkatronic conducts various technology updates and enhancements, and Georg's team is well-versed in bringing numerous inkjet systems to a technical level previously thought impossible. "If customers think they are paying too much for their inks, or if they want to modernise an existing inkjet system, then we have the facilities and capabilities to complete a full system assessment and project roadmap," Georg confirms. "During the last 18 months we have enhanced our overall offering to include a tailormade software workflow package, plus a comprehensive library with print-ready designs, including 3D prints on normal inkjet systems, such as the texture of a wooden surface."
Whatever the challenge, the Inkatronic team has the tools and talent to offer an enhanced, fully optimised inkjet solution, and GIS is delighted to partner with them for growth.

http://www.globalinkjetsystems.com