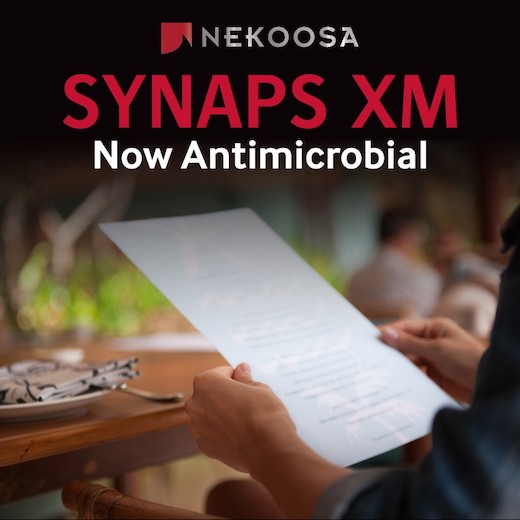 New antimicrobial coating protects the printed application from infection causing bacteria and viruses.
KIMBERLY, WI – Agfa Gevaert NV, the manufacturer of SYNAPS synthetic polyester paper, recently added an antimicrobial coating to SYNAPS XM. This coating prevents 99.9% of bacteria, viruses, fungi and mold from growing on the sheets surface over the lifetime of the printed application, and was proven effective through independent ISO 20743 and ISO 18184 tests.
SYNAPS XM is a synthetic polyester paper designed for digital dry toner/laser printers and copiers. Its durable, matte white polyester base makes SYNAPS XM naturally waterproof, tear-proof and weather resistant. SYNAPS XM is suitable for indoor and outdoor applications like restaurant menus, wire-o bound manuals, hole punched tags, scores table tents, shelf talkers and wobblers, membership and identification cards and plant stakes. Using SYNAPS XM rather than laminating paper stock allows for minimal scrap, waste and time compared to traditional lamination. For more information on SYNAPS XM, please visit the Nekoosa website at https://nekoosa.com/products/synaps-xm.
Nekoosa is the master distributor of Agfa's SYNAPS synthetic polyester paper line in North America. For a full list of Nekoosa's distribution partners in the Unites States, Canada and Mexico, please visit the Nekoosa website at https://nekoosa.com/find-a-distributor.