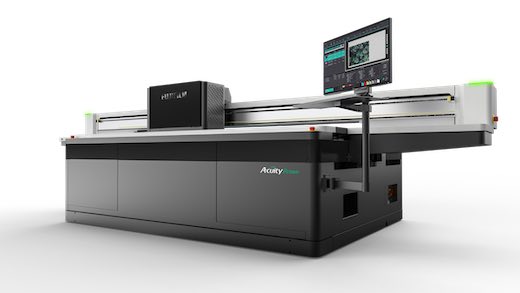 Fujifilm today announced that it has partnered with RA Smart to supply the Acuity Prime to customers within the UK. RA Smart, predominantly a textile printing specialist company, is entering its 50th year of business in 2022. Since joining the company as a director and partner earlier this year, Adam Booth set up RA Smart Large Format - a division of the business exclusively supplying large format print equipment. The latest addition to the company's large format product offering is the Acuity Prime.
RA Smart has already ordered two Acuity Prime presses from Fujifilm. One will be a demo machine, housed in the RA Smart head office in Macclesfield, while the second is a customer order for Ebbsfleet Printing Solutions, a sign shop and digital print company based in Kent.
Adam Booth, Partner and Director, RA Smart says: "Having been in the print industry for years, even once working at Fujifilm myself, I have always been hugely impressed with Fujifilm - with how they operate as a business and of course, their technology. The fact that Fujifilm invests significantly in R&D and ink technology means that they can drive the best return on investment and ensure quality is consistent. This really sets them apart from all other players in the industry. When the Acuity Prime, which sets a new benchmark for price / performance, launched this year, we couldn't pass up the opportunity of adding it to our product portfolio.
Booth discusses how he sees the industry developing next year. "It hasn't been a typical year, and I envisage that next year we are going to see a real push within the market - not just within print but also finishing solutions too. The entire start-to-end process of helping customers to produce fast turnarounds of high-quality products is a key trend that I expect to see. The Acuity Prime is ideal for meeting these demands, due to its fast print speeds and superb quality. I also foresee many printers replacing their older flatbeds that are expensive to service and support, which is, again, where the Acuity Prime offers a great opportunity. I am looking forward to seeing how the machine benefits our customers' businesses."
Andy Kent, Divisional Manager, Fujifilm Graphic Systems UK comments: "We are delighted to be partnering with RA Smart - a trusted and reputable print company and supplier. We are confident that this relationship will enable us to reach customers more effectively than ever before."