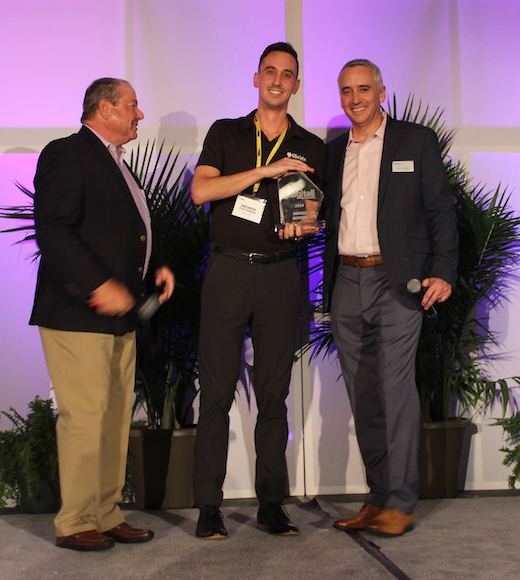 Company recognized as "Company to Watch" at third NAPCO Digital Printing Summit.
OTTAWA, CANADA - Tilia Labs, Inc. (tilialabs.com), the leading developer of planning, imposition, and Artificially Intelligent (AI) software solutions announces that the company has been named as the "Company to Watch" at the 2021 Digital Packaging Summit.
This Packaging Impressions event, presented by NAPCO Media Group and the Printing United Alliance, offers printing and converting companies of every size and scale an opportunity to evaluate the impact of digital production printing technology, software, and solutions for business improvement. The Company to Watch award, recognizing the event's most exciting new technology, was presented to Tilia Labs for its industry-changing planning and imposition application, tilia Phoenix.
The program was selected by an objective panel of delegates over a field that included more than 40 companies representing the industry's largest brands including Canon, Ricoh, and HP. Including the Inkjet Summit and Wide-format Summit held earlier this year, this marks the third consecutive event where Tilia Labs has received the award.
Event Director, David Pesko explains that the award was based on votes from converter and printer show attendees who selected Tilia Labs from other supporting sponsors.
"Congratulations to Tilia Labs for winning the coveted 'Company to Watch' award," said Pesko. "They did an excellent job explaining the benefits of their solution throughout the summit. But rather than me telling you why Tilia Labs was selected, this is what one attendee said to me: Their software is solving a problem we know we had but didn't know how to articulate. Their planning software has made it obvious where our opportunities are for gaining greater efficiencies."
"NAPCO digital summits provide a unique opportunity for exchanging information and showcasing and evaluating leading solutions. We find these events extremely valuable for connecting attendees with the sponsors and look forward to being a part of the Inkjet Summit in April," said Tilia Labs Director of Sales, George Folickman. "While we're naturally thrilled by this award, the real value is that it serves to further validate our groundbreaking AI technology. Innovation for the sake of innovating is of little value. Technology must be practical, solve real-world problems, and deliver measurable results. We're honored to receive such on-going recognition and equally excited by the challenge to further solidify our leadership position as we continue to pursue next generation solutions."
Tilia Phoenix
Developed for packaging, labels, commercial, and wide format print service providers, tilia Phoenix is a dynamic layout solution that takes the guesswork out of job planning and imposition. Leveraging Artificial Intelligence (AI) technology, the software minimizes touchpoints to accelerate production, maximize material usage, and increase profits.