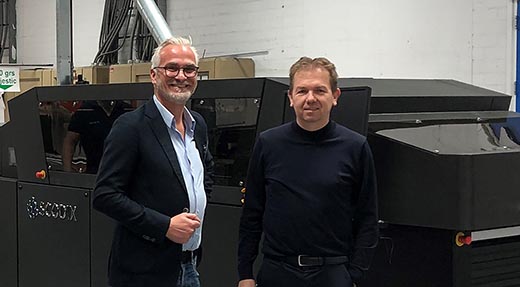 Franz Repp, Scodix VP Sales EMEA and Richard Kampert, Kampert-Nauta Managing Director
Customers increase the number of orders with the productivity and flexibility of Scodix enhancement solutions
SCODIX, ISRAEL – Scodix, the world's leading provider of digital enhancement solutions for the graphic arts industry, today announces Kampert-Nauta BV has installed its second Scodix Ultra Digital Enhancement Press.
Printing products such as flyers, folders and business cards from its facility in Oss, Netherlands, Kampert-Nauta provides a quick and efficient service for customers. The company has a history that goes back more than 120 years but focuses on contemporary marketing and communications – requiring smart, fast, and flexible production solutions, such as Scodix enhancement.
Richard Kampert, Kampert-Nauta Managing Director, states, ""Our business has been growing steadily, and to maintain our in-house digital enhancement services, we decided to put an additional Scodix Ultra press on the production floor. Since installing our first Scodix press, which runs continuously, our customers insist that we enhance more of their jobs. In addition, the attraction of embellished prints increased demand from their customers, which created value for the whole ecosystem – us, the brands, and the end-user"."
The Kampert-Nauta production floor consists of Koenig & Bauer 8-colour sheet-fed offset presses, HP Indigo presses and Canon varioPRINT iX3200 inkjet printers. In addition, the Scodix Ultra 2000, with its nine applications on one press, is able to enhance CMYK print from each press allowing for a wide range of top-quality creations and fast delivery.
Eli Grinberg, CEO and founder of Scodix, adds: "This printing company is amazing, and their growth rate is impressive. We are very excited to be part of Kampert-Nauta's success story and look forward to further expansion in the coming years.