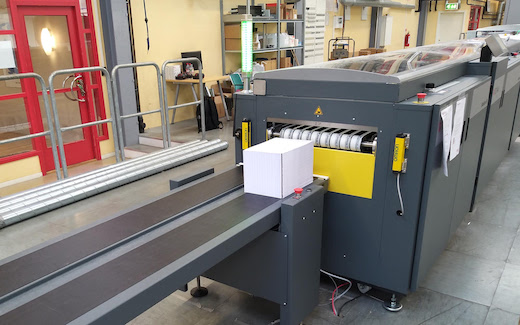 KGM Datadistribution AB is the first printing company in the Nordic region to invest in a Tecnau Revolution 50 Cut & Stack solution, with dynamic perforating and merging inline to a Canon ColorStream 8000 printer to handle large volumes of transactional and direct mail applications
In a fast-moving environment, choosing the right path to evolve can make a tremendous difference in a company's future. Swedish company KGM Datadistribution AB knows this very well and since 1982 continuously improves and refines processes to help its customers adapt and take exciting new steps forward in the communication landscape. With three digital print production sites in Stockholm, Sundsvall, and Copenhagen, KGM specializes in output management and provides complete communication and mailing services, both postal and digital production, to its customers in the most environmentally friendly and cost-effective way.
"Our vision and ambition are to always find the smartest way to better spread our client messages in every possible output channel. With 40 years of experience and a steady growth both in technologies and volumes produced we pursue this goal very seriously," said CEO Mia Steen. "In the last couple of years, we saw a real boost in the demand for direct mail applications, and we decided to further improve our solution capabilities by moving to a newer technology".
"KGM was looking to expand its business in terms of quantity and quality with a new finishing solution inline to a newly purchased Canon ColorStream 8000 capable of speeds up to 160 meters per minute," explained Thomas Olofsson, Tecnau Area Manager Nordics & Asia Pacific. "With high-speed throughput, IoT compatibilities and media flexibility, our flagship Revolution 50™ family was the perfect candidate for reaching the next level of production required. Also, Revolution 50 had already been validated with the new printer, illustrating the added value of our long relationship with Canon."
KGM installed a Revolution 50 Stack 5151 cut & stack solution with a Merger m50 unit option to allow rolls printed in 2-up on the Canon ColorStream 8000 to be slit & merged in a single collated stack at up to 160 meters per minute. The solution operates in taut web with a dynamic web aligner to keep the web steady and improve reliability. The Merger m50 unit is directly connected to the cutter with no loops to better control the paper flow and minimize the overall solution footprint. After the printer, a Dynamic Processor TC 1550 HS 1 has also been installed to create on-demand horizontal and vertical perforations triggered by a 2D Datamatrix on each page.
"Stack 5151 set a completely new standard for high-volume digital print production, maximizing efficiency and reducing waste in a market where every penny counts," continued Thomas Olofsson. "For KGM, one of the largest supplier of transactional printing and direct mail in Sweden, this means a technological and quality advantage in the market."
The solution can handle web widths up to 560 mm to take advantage of the wider paper path of the new Canon printer and can easily match the ColorStream 8000 processing capabilities of 40 – 160 gsm paper weights in slit/merge mode or even go further up to 300 gsm in normal 2-up parallel mode. The Revolution 50 series features a sliding cartridge to completely extract the cutting section and quickly access blades for easy maintenance operations.
"KGM's customer base mainly consists of larger organizations such as banks, telecom and energy companies that send information to consumers in the form of A4 single or multiple formats with or without tear-out coupons. With over half a million mail pieces a day, optimization and high uptimes are crucial for a stable process flow," Mia Steen emphasizes. "The Revolution 50 solution fills an important gap in finishing by providing a stable, reliable yet easy-to-use solution that pushes productivity while requiring low maintenance levels."
"With this fully functional new system installed in record times by our expert technicians during a period in which travel was not easy, we provided KGM with the perfect tool to continue their long 40-year tradition of satisfying their customers, and secured their future in this competitive market," concluded Thomas Olofsson.