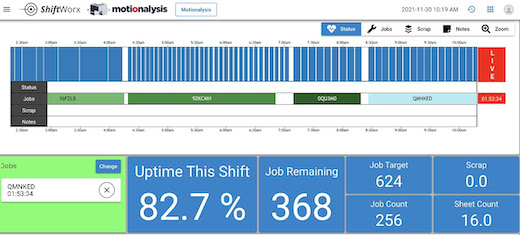 Live production data from a digital cutter with Motionalysis Shiftworx provides uptime and downtime tracking for automatic OEE calculations.
Significans Automation Inc., a leading provider of integration and automation solutions for the graphic arts industries, has partnered with software developers Tilia Labs, Inc. and Motionalysis, Inc. to offer a comprehensive workflow automation solution to its customers.

The agreement strengthens Significans Automation's position as a certified integrator and deployment partner for best-in-class software solutions. Customers using Tilia Labs' planning and imposition software together with Motionalysis' tools for measuring actual performance can now integrate their systems and maximize their hardware and software investments thanks to the customization and automation brought to the table by Significans Automation.

"This incredible collaboration of partners provides a unified, turnkey solution for customers, who can expect a full shop-floor analysis and an integrated automated workflow system that enables forensic-like analytics and estimations," explains Significans Automation CEO Marc Raad.

Motionalysis, a Delaware-based company founded in 2019, has gained industry acclaim for its unique IP and patent-pending technologies which deliver an industrial IoT-based estimating platform to any converting operation.

"While the big MIS companies shine at traditional converting, only Motionalysis delivers fast and easy digital estimates that are independent of equipment manufacturers," explains Motionalysis Founder Sean Arney. "As a critical part of Industry 4.0 transformations, Motionalysis measures performance and turns that performance data into actionable information that is available to any customer."

Motionalysis' solution begins with an extensive library of carton and packaging designs that allow non-technical users to quickly configure simple to complex production runs, cost estimate those runs, and learn from the actual productions to make better estimates.

"We initially set out to find a partner for good CAD and packaging templates," explains George Folickman, Worldwide Director of Sales for Tilia Labs. "But we quickly realized what Motionalysis had developed was a powerful and agnostic IoT learning machine for estimating and planning, so they were a natural partner for us."

Motionalysis allows customers to accurately measure throughput and capacity on cutters and finishing equipment and incorporate this data into their estimating system for faster, more accurate quoting. Complex estimates which can take days or weeks to generate can be completed in seconds, and more accurately than has ever been possible.

Closing the loop on manufacturing projections, Motionalysis' sensors and reporting tools measure and report what actually happens on the equipment, using collected history to refine the forecasting and to allow customers to truly understand the downtime and available time they have on any machine, of any age, or from any manufacturer.

Meanwhile, Tilia Labs brings to the partnership its industry-leading planning and imposition application, Tilia Phoenix, which uses AI technology to nest, gang, and impose jobs with ease. Uniting planning and prepress under one application, Tilia Phoenix can be integrated into any workflow to automate the ganging and imposition process, reducing time in prepress, and maximizing material usage.

"In an industry climate fraught with material shortages, delays, and rising costs, managing and forecasting yields and material requirements is becoming increasingly important," explains Significans Automation's Raad, adding, "This is why Motionalysis and Tilia Labs are great fits for us as workflow integrators."

Significans Automation's unique track record of delivering on automation projects made them an appealing partner to both Motionalysis and Tilia Labs.

"I see a lot of half-finished projects where a business owner gets sold on the concept of automation, and purchases various tools and equipment," explains Tilia Labs' Folickman. "But after making a bit of progress they realize they don't have the expertise to continue to develop it, and they never achieve any meaningful automation," he adds. "We've chosen to partner with Significans because of their experience managing such projects, and getting their customers across the finish line to their actual goals."

As customers in today's challenging market struggle with supply chain shortages and delays, rising material costs, and tighter labor markets, the need for material optimization, smarter estimating, and automation has never been more critical. This partnership allows customers to leverage best-in-class solutions from leaders in each of these areas, managed by an automation leader with a track record of successful integrations.