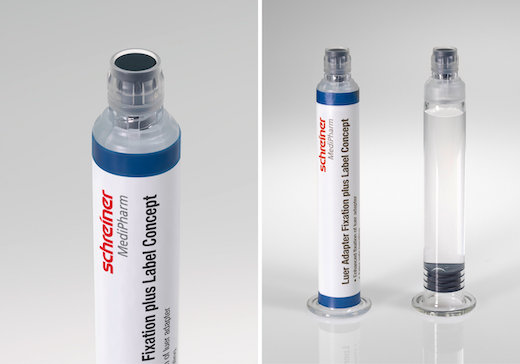 The Luer Adapter Fixation from Schreiner MediPharm firmly connects the glass syringe with the Luer adapter and helps screw in the hypodermic needle correctly.
Luer Adapter Fixation equalizes any difference in radii between syringe body and Luer adapter, while also offering extra space for product information.
Blauvelt, NY – Schreiner MediPharm, a Germany-based global provider of innovative functional label solutions for the healthcare industry, has developed a concept to make handling of Luer lock syringes simpler and safer for medical staff. The company's Luer Adapter Fixation reduces the risk of incorrect or incomplete hypodermic needle screw-ins during a syringe's insertion with a Luer adapter. The fixation solution supports accurate handling in everyday healthcare settings, protecting patients against painful or incorrectly performed injections.
Developed specifically for glass syringes, Schreiner MediPharm's solution consists of a plastic ring pushed onto the Luer adapter. By interlocking with the Luer adapter, the ring equalizes any difference in radii between adapter and syringe body. The plastic ring and the syringe body are subsequently connected via a label that firmly fixes the Luer adapter in place. The result is an extended label area offering ample space for additional product information.
The adapter solution is applied without heat, making it suitable for temperature-sensitive products. Pharmaceutical manufacturers benefit through the assurance of a reliable process where syringes remain unchanged.
For digital applications, an RFID chip can be integrated. The Luer Adapter Fixation also is compatible with Schreiner MediPharm's Cap-Lock, a security concept for prefilled syringes delivering reliable tamper evidence.
The Luer Adapter Fixation is particularly well-suited to emergency medicine settings, which are prone to higher risk of application errors. In cosmetic medicine, the new adapter solution can help avoid needle pop-off, especially when injecting highly viscous hyaluronic acid with high exertion of force and pressure.
For more information, call 845-848-9000, e-mail [email protected] or visit our website at www.schreiner-medipharm.com.