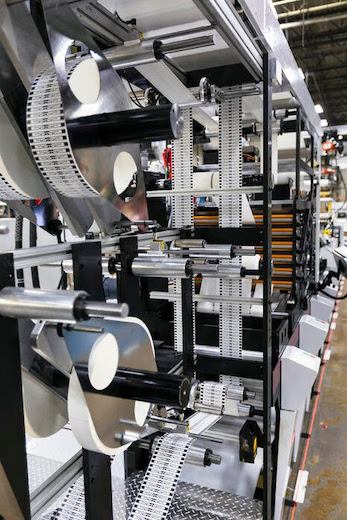 Mark Andy machine with RFID modules.
Although RFID technology has been available for many years, it's only
in recent times that it has become a part of our daily lives. Today, all kinds of sectors use RFID, from the food and beverage industry to clothing, laundries, hotels, car parks and others that are too many to name.

But there are two sectors of commerce where RFID has been growing rapidly that are not apparent to the public, namely logistics and warehousing, where use of the technology plays an important role in ensuring that a product is delivered on time and to the correct address. This global trend is catching the attention of label and packaging converters who can see an opportunity for diversification into new markets. With an increasing number of new applications, the market has begun to appreciate the benefits of RFID in terms of greater efficiency and reduced time and cost.

Mark Andy has a long history in RFID technology and has accumulated a vast wealth of knowledge by equipping and adapting its narrow web presses. Labels manufactured on these Mark Andy presses have been used for many years in various industries from manufacturing to access and security systems, as well as logistics and warehousing. The large retail chains have long appreciated the value of RFID technology for product sales, theft prevention, inventory and delivery and customer handling, all of which are simpler, cheaper, and more accurate with RFID.

Speaking for Mark Andy, European Marketing Manager, Lena Chmielewska-Bontron explained:
"RFID technology brings huge benefits to logistics and warehousing because it saves time and money – and that's why it's growing in popularity. Converters are noticing this trend because more of them are receiving enquiries for RFID labels every year. It seems likely that all warehousing will eventually adopt RFID so it's a good idea to be prepared for this new demand, as well as other applications like sales labels for self-service retailing with instant check-out. There are so many opportunities and possibilities going forward!"

A number of food and clothing networks have already decided to implement RFID technology to combat the shortage of staff available, the high cost of labour, the increasing cost of raw materials and transportation, and the safety and security of delivery. For these reasons, Mark Andy's view is that label converters should pay particular attention to RFID with the use of transponders, chips, and tags. Although varying in size, each is a data carrier that can register, store, and read important product information at every stage from manufacturing through sales to delivery.

One good example of this trend is the sports equipment and clothing manufacturer, Decathlon. The company initially tested the process with an own-brand product that it marked and tracked from the factory to distribution centres and retail outlets. It was so successful that soon after all Decathlon products were using RFID labels and tags to monitor items in its shops worldwide.

The benefits are enjoyed on all sides. For the customer, purchasing is simpler and more streamlined, safe in the knowledge that the item chosen is available and will be delivered on time.
For Decathlon employees it's a benefit because specific products can be found on the shelves or their availability can be quickly checked, while for the company itself, inventory management is improved with electronic supervision that offers greater security. Taking it a stage further, one of Decathlon's shops in Poland uses a robot that scans all shelves and checks all items every night. It can stock check over 3000 items per hour and provides management with an accurate daily figure of what's been sold and what it still available.

There is also a legal benefit involved with RFID tagging, as Lena Chmielewska-Bontron explained:
"An RFID tag guarantees that the product is what it is supposed to be – it's come from the right factory in the right country with all Customs duties paid – so there are no hidden extra costs, and you know that it is not a fake and that there is no counterfeiting involved. As supply chains become more complex, logistics and the protection of brand identity become a greater challenge – RFID can play a key part in resolving these issues."

Two sectors that already enjoy the benefit of RFID are the food and clothing markets, where a significant number of tedious manual tasks have be eliminated.
At a time when staff recruitment is proving difficult, the removal of time-consuming stock checks is a bonus. Not only is the use of RFID more accurate, but it allows redeployment of staff to other more useful functions. The application of an RFID tag at the time of manufacture also assists staff at the warehouse, who have a more accurate and up to date picture of what is in stock and what needs to be re-ordered, as well as ensuring that the correct product is picked and supplied from the shelf.

An excellent example of this is the American printing company Repacorp, which invested in Mark Andy presses equipped with RFID technology some 15 years ago. According to the company's management team, RFID has continued to grow in popularity as customers trust its accuracy and see more of the benefits it can offer. Repacorp's customer portfolio includes major retail chains as well as manufacturers in the automotive and healthcare sectors and warehousing. Since installing RFID, one of its major customers claims to have significantly improved stock keeping accuracy and reduced labour costs in its warehouses. And it's not just Repacorp's customers that have benefitted – the company now uses RFID technology to track products in its own warehouse and has streamlined its supply chain in the process.

Summing up, Sales Manager for Mark Andy Europe, Lukasz Chruslinski commented: "Every brand owner looking to eradicate human error from its business needs to investigate what RFID has to offer. Converters also need to look at what it can do for their business by way of responding to market trends and opening new opportunities. Investing in RFID technology allows them to be more innovative with their labels and packaging, and this is very attractive to brand owners."

"Mark Andy is keen to support and co-develop RFID technology with any interested company – we have extensive knowledge and expertise in this sector and a range of technology to meet your requirements – so please get in touch," he added.