GHENT, BELGIUM – The Ghent Workgroup (GWG) is offering a new service called Ghent PDF Output Suite 5.0 Conformance Certification. With this certificate print service providers can prove that their PDF output workflow is compliant with the PDF/X-4 standard (ISO 15930-7:2010).
The certification is based on the globally recognized Ghent PDF Output Suite which was developed to help testing PDF/X-4 compliancy of PDF output workflows. The Ghent PDF Output Suite 5.0 consists of several dozen patches each testing a specific aspect of the PDF/X-4 standard. The GWG has put together a great number of these patches into six merged test pages: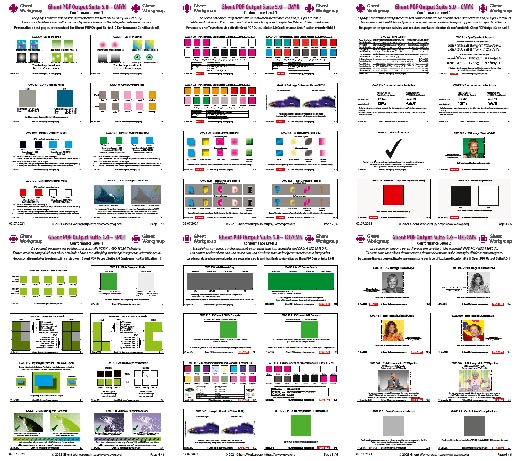 This test file is fully PDF/X-4 compliant and contains only valid PDF/X-4 features which represents what could be part of every regular PDF/X-4 print production file.
The pages of the Ghent PDF Output Suite 5.0 are grouped into two conformance levels:
Conformance Level 1: pages 1–4 which includes CMYK and Spot color tests
Conformance Level 1+2: pages 1–4 AND pages 5–6 which includes ICC based color tests

Conformance Level 2 involves color management and is therefore more demanding.

Certification

The GWG is offering two separate Conformance Certificates Levels:
Ghent PDF Output Suite 5.0 Conformance Certification – Level 1
Ghent PDF Output Suite 5.0 Conformance Certification – Level 1+2

GWG has created the Ghent PDF Output Suite 5.0 Conformance Certification program in 2021. Participating GWG members can offer this program to their members, customers, community, etc. The certification program is for companies not individuals and targeted to end users (e.g., print and packaging service providers). Solution vendors, developers or system integrators who wish to participate in the Ghent PDF Output Suite 5.0 Compliancy program for their products should contact the GWG.

The certification is not directly offered by the Ghent Workgroup but by participating GWG members (associations, vendors, industry members, educational members). The GWG member manages the certification process. They also determine the cost of the certification for their candidates.
The following GWG members already expressed interest to offer this conformance certification:
ArtOption (Germany)
CAPT (China)
CEC LATAM (Latin America)
EFI (International)
Four Pees (International)
Future Schoolz (India)
Government Institute of Printing Technology Mumbai (India)
UiTM (Malaysia)
University of Ljubljana (Slovenia)
VIGC (Belgium)

In spring 2021 GWG successfully conducted a pilot project with the new GWG member CEC LATAM in Latin America. They have also included the certification in their latest PDF training program. We were able to award four Level 1 certificates and five Level 1+2 certificates:
http://gwg.org/gos5/conformance-certificates/

"The Ghent PDF Output Suite 5.0 was created to check if the settings of a PDF output workflow are conform to the PDF/X-4 standard. The new Conformance Certification allows a print service provider to proof that this output workflow is able to process PDF/X-4 print files without any problems. This will help increase the reliability of PDF/X-4 workflows worldwide", stated Stephan Jaeggi, CEO of PrePress-Consulting in Switzerland and Co-Chair of the GWG Process Control Subcommittee.

Additional information is available on https://www.gwg.org/gos5/conformance-certification.