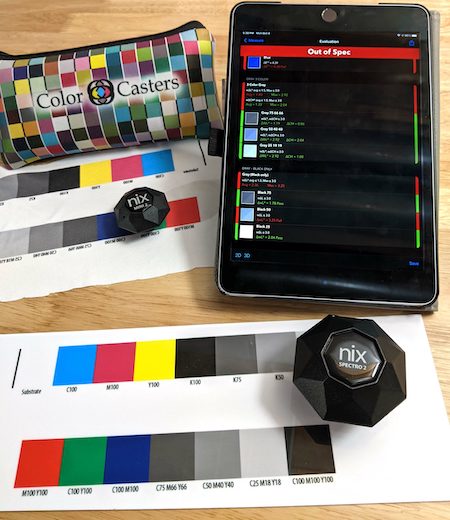 SUSSEX, Wisconsin – ColorCasters LLC, in partnership with Nix Sensor and software developer Hal4D Consulting, LLC, has created SpeckCheck Mobile, a powerful color verification and spot color evaluation solution through an iOS app.
SpeckCheck, which is now available as a free download in the Apple store, provides a color measurement solution for printer calibration, color verification, spot color evaluation and overall process control in conventional, digital and inkjet printing environments.
Using the SpeckCheck app, users can pair their mobile device to a Nix sensor and use it to measure appropriate color patches. They can then evaluate the results against industry or in-house specifications. SpeckCheck can verify both 4-color process work and spot colors alike.
Through this partnership, ColorCasters and Nix have taken another step forward in effectively simplifying the process of maintaining consistent color.
About ColorCasters LLC
ColorCasters LLC is a color management consulting and training agency working primarily in the wide-format printing industry.
About Nix Sensor
Nix Sensor develops and manufactures color sensors, spectrophotometers and is based out of Hamilton Ontario Canada.