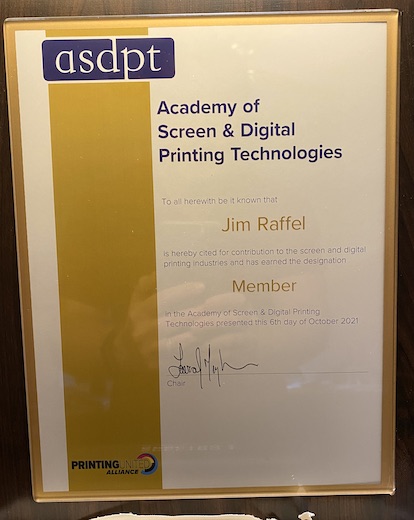 SUSSEX, Wisconsin - In an online ceremony on Nov. 10, 2021, Jim Raffel, CEO of ColorCasters LLC, became one of the newest members of the Academy of Screen & Digital Printing Technologies.
The Academy was established in 1973 by the Board of Directors of the Specialty Graphic Imaging Association (SGIA). According to its mission statement, the Academy:
"honors qualified individuals through election to membership for their distinguished, long-term contributions to, and application and promotion of, screen and digital printing and associated imaging technologies for graphic, textile, industrial and electronic printing applications."
Raffel said he plans to be active in Academy committees starting immediately and that he wants to continue to find ways to give back to the printing industry by advancing new ideas and technology.
"It's an honor to have the work I've been part of over the course of my career be recognized at such a high level by our industry," Raffel said. "It's recognition like this that keeps me in a creative spirit when working on new projects."
About ColorCasters LLC
ColorCasters LLC is a color management consulting and training agency working primarily in the wide-format printing industry.