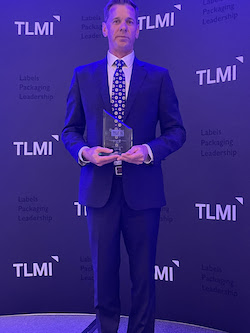 St. Louis, Missouri – Steve Schulte, Vice President of Sales & Marketing, Mark Andy, was presented the coveted Supplier of the Year award at TLMI's Annual Meeting last month in Naples, Florida. The award recognizes Schulte's dedication to both the tag and label industry, as well as his service to the organization.
Amongst the first manufacturers to join TLMI (Tag and Label Manufacturers Institute) in 1965, Mark Andy has a longstanding relationship with TLMI that has helped to foster success for our customers as well as promote collaboration and innovation across the entire industry. Schulte is only the second recipient from Mark Andy to receive this prestigious award, and he is second to none other than Mark Andrews himself.
Schulte expressed one of his defining moments in his career was having the honor to serve on the Board of Directors. He states, "From serving on the Board of Directors to multiple committees, I've had the immense pleasure of having the opportunity to be a part of the continuous innovation of the industry, and for that, I am thankful to both Mark Andy and TLMI."
On Schulte's contribution to Mark Andy over the years, Chief Executive Officer, PJ Desai notes, "Steve has been a huge factor to Mark Andy's success over the years. His commitment to our customers and those relationships is exemplary, and is something that he ensures is a top-to-bottom way of thinking for his entire team and beyond. We are lucky to have him and his knowledge at Mark Andy; he is extremely deserving of the TLMI Supplier of the Year award."
For more information, visit www.markandy.com.