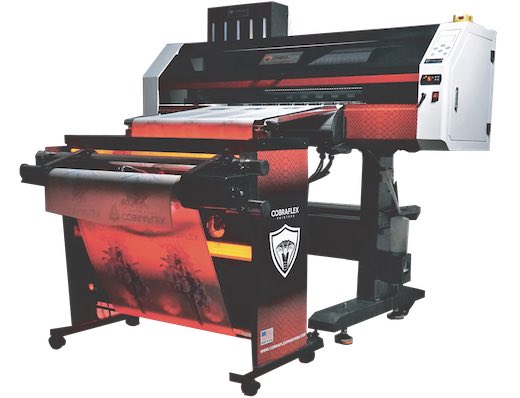 Sussex, WI – The Mosaica Group, a national distributor supporting dye sublimation and wide format print processes with equipment, consumables and services, is proud to offer No Powder DTFTM (Direct-to-Film) Cobra Flex PrintersTM. The Cobra Flex solution allows The Mosaica Group to distribute no powder, direct-to-film transfer technology throughout a multiregional area.
No Powder DTF Cobra Flex printers are the latest technology advancement in apparel and promotional product printing. Cobra Flex printers feature multiple Epson i3200 print heads with CMYK plus white and a proprietary printable adhesive, which has eliminated the need to use powder. Available in two widths, 24" and 50", No Powder DTF Cobra Flex printers print up to 255 sq.ft./per hour, and provide dot-for-dot adhesion, resulting in crisp, vibrant graphics.
"I'm excited about offering this new technology as it is nothing short of amazing," said Randy Peters, President and CEO, The Mosaica Group. "The ability to print direct to film and transfer to multiple fabrics and applications without using powder, combined with the ability to use white ink, and without the limitation of using polyester-based fabrics, is truly a game changer for printing."
With No Powder DTF Cobra Flex printers, the printing process is much more versatile and eliminates the mess from powder-shaker printers. DTF gives you much more flexibility, with the ability to print on a variety of fabrics including cotton, polyester, rayon, nylon and silk. Additional applications such as wood, hemp, leather and canvas also print with amazing results. The major benefit is the ability to print white ink on dark and colored cotton, polyester and spandex fabrics, which opens the door to unlimited opportunities!
Advantages of Direct-to-Film Transfer, No Powder Technology
Fabric doesn't require pre-treatment or coatings
Printed graphics result in soft hand feel and exhibit excellent wash resistance
Quicker and easier process when compared to DTG
Shirts per minute vs. minutes per shirt
Proprietary liquid adhesive eliminates using powder
Print white ink on dark and colored fabrics
Eco-friendly water-based ink
No Powder DTF Cobra Flex printers are reliable and cost-effective to own. In addition to being extremely intuitive and easy to operate, Cobra Flex printers require less labor and maintenance, and the printing process is more affordable (as low as six cents for a left-chest application) when compared to DTG, screen printing, and laser white toner transfers.
For more information, contact us at 800.658.9022 or visit Get.PrintMosaica.com/Cobraflex.