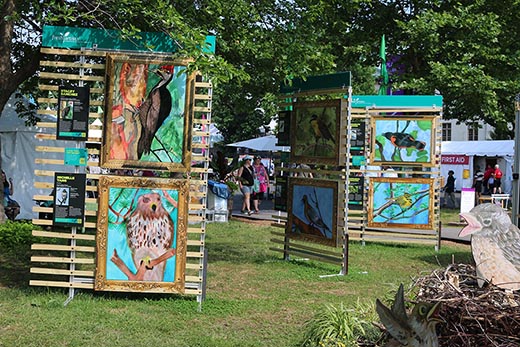 Student portraits on display at the 2021 Philadelphia Flower Show taken on a Canon EOS 70D
Art has an unwavering ability to permeate one's thoughts and inspire change. For young artists of the Philadelphia, Camden (NJ) and Norristown, PA school districts, their creativity flourished as they saw their portraits printed and displayed at the Fresh Artists' "Bird Brigade" Exhibition at this year's Philadelphia Flower Show. Amplified by the power and influence of print, more than 175,000 people were able to see the hard work and dedication of these young artists. Having their work seen by so many people instilled a sense of pride and honor in the artists, some of whom were seeing their artwork exhibited on such a large scale for the first time. What's more, these artists were provided the ability to utilize art for the greater good, an opportunity amplified tenfold in light of these unprecedented times.
Empowering young lives through print and art, Canon Solutions America, Inc., a wholly owned subsidiary of Canon U.S.A., Inc., is proud to highlight its customer, Philadelphia-based Fresh Artists, in its creation of "Bird Brigade." The project inspires students in grades 3-12 to become advocates for birds in peril, introducing collision mitigation techniques to their families, neighbors, and communities. Putting art into action, over 110 students created beautiful portraits of birds of the Delaware River Watershed, referring to paintings of famous early-20th century bird painter and ornithologist Louis Agassiz Fuertes in the Academy of Natural Sciences' collection.
Founded in 2008, Fresh Artists is an organization dedicated to empowering K-12 children as philanthropists, educating and inspiring students through the power of art and keeping art education alive in public schools. Through vibrant colors and graphics, Fresh Artists' team of talented staff educates students through art, creating an environment that inspires those in the community to explore their creativity.
"We are continuously blown away by these students and I am reminded every day of why I love what I do. We are helping to amplify the voices and creativity of children while promoting their access to the transformative process of art making. Validating their talent and provide opportunities for them to express their selfless concern for the well-being of others," said Barbara Chandler Allen, founder and president, Fresh Artists. "We all truly love what we do, and the smiles on our students' faces make everything worth it. Canon's equipment is able to help bring the students' artwork to life, and without it, those smiles would not be possible. We look forward to continue working with Canon and celebrating the power of print through art and the power of art through print!"
"Art is important to me. I believe art makes people happy, sparks joy and empowers change. My favorite part about this project was researching my bird, the Passerina. I found out what type of habitat they live in and what they like to eat," said Dy'Lea, a Fresh Artist student. "When people look at my art, I want them to know that we need to protect the birds, but we also need to protect their habitats in order for them to survive. It makes me excited that Fresh Artists wanted one of my artworks to be representing them [in the Flower Show] and it's like a really big deal to me."
Using large format devices from Canon Solutions America, Inc., specifically the Colorado 1650 and Arizona flatbed printers, Fresh Artists has been able to bring their students' art to life, building on their original designs to create large-scale pieces which can be seen on the walls of businesses across the country—from corporate office buildings to the sides of city buses. To date, Fresh Artists has curated an ever-growing collection of more than 2,300 artworks created by children, positively impacting the lives of millions of young people and delivering more than $2.5M in art supplies and innovative programs like Bird Brigade, to classrooms across the country.
To further showcase their creativity and love for art and photography, Fresh Artists students had the opportunity to utilize the Canon IVY CLIQ 2 to capture and instantly print images of art. Once printed, the students were able to stick the image directly on the back of their phone cases, a popular way to utilize the instant camera printer.
"Fresh Artists is a shining example of why we do what we do here at Canon Solutions America. It amazed me to see how, through their utilization of print to amplify their voice and efforts, they were able to help bring awareness to an important problem in our society," said Peter. P. Kowalczuk, president, Canon Solutions America. "The Fresh Artists organization as a whole and its mission to provide opportunities for young artists to learn, grow and excel in art aligns seamlessly with Canon's corporate philosophy of Kyosei, which we define as "all people, regardless of race, religion, or culture, harmoniously living and working together into the future."
Interested in learning more about how Fresh Artists is powered by Canon? Check out this video.