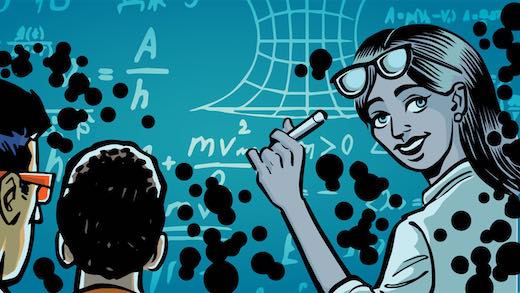 Pink Elephant Productions produces innovative & accessible educational materials for teenagers who are visually impaired & receive Pre-Employment Transition Services (Pre-ETS) in Massachusetts.
WESTFORD, MASS. – Pink Elephant Productions, a marketing consulting company, won the Xplor's 2021 Application of the Year Award for its Quest for Independence Campaign with Massachusetts Commission for the Blind (MCB). The Application of the Year Award is presented to companies demonstrating high achievement in the innovative document design category with distinctive implementation of design, accessibility, and communication technology.
Pink Elephant Productions worked with MCB to produce an easy to understand and engaging graphic novel that included supporting audio soundtracks, social media graphics, a comprehensive PDF of the novel, and a complementary website with the goal to educate visually impaired teenagers and their families of Pre-Employment Transition (Pre-ETS) services available in Massachusetts. MCB is the point of entry for vocational rehabilitation (VR) and social rehabilitation (SR) services helping individuals who are legally blind in the Commonwealth to achieve independence and full community participation.
"MCB identified a need to simplify a process that is involved, technical and often times overwhelming for individuals losing their sight," said David D'Arcangelo, MCB Commissioner. "The graphic novel approach allowed us to create a storyline that humanizes the Pre-ETS content in a way that appeals to our demographic. Most importantly, we were able to emphasize our mission of promoting independence and self-determination at home, school, work, or anywhere really. Since we launched The Quest for Independence campaign and novel, we have received rave reviews from Pre-ETS students and families, and we look forward to sharing it further in the year ahead."
The Quest for Independence Campaign has been shared across Massachusetts to community partners, participating schools, teachers for the visually impaired (TVIs) and all MCB staff. The MCB also promotes the campaign on its website, social media and holds virtual meetings for book clubs.
"We were honored to receive the Xplor Award and extremely proud of the work with MCB. By creating a graphic novel that paints a vibrant picture of the Pre-ETS program advantages using concepts that the reader would relate to, MCB is able to successfully reach and engage a younger audience," said Shoshana Burgett, founder of Pink Elephant.
The Quest for Independence project was funded via federal reallotment from the Rehabilitation Services Administration (RSA) and is the first of its kind for MCB to provide enhanced outreach opportunities for individuals who receive Pre-ETS Vocational Rehabilitation (VR) services.
To learn more about Massachusetts Commission for the Blind & The Quest for Independence project, visit https://mcb-questforindependence.com/.