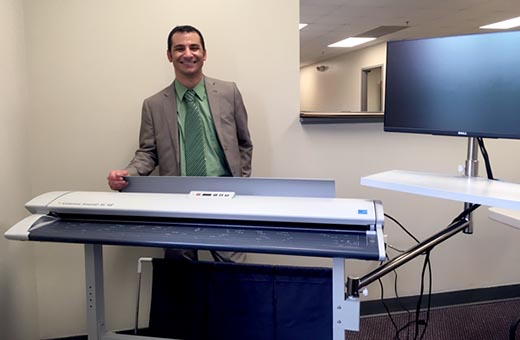 Large format scanners prove invaluable for a multimillion-dollar conversion project
Chantilly, VA — Colortrac today announces its scanners were selected by ibml, an innovator in document scanners and intelligent information capture software. The Alabama-based company's Business Process Outsourcing division chose the scanners for a multimillion-dollar conversion project. ibml required Colortrac's high-production scanners for the project's demands, but also for any scanning task for years to come.
ibml selected eight SmartLF SC 42-inch Colortrac scanners, as recommended by CA-based Paradigm Imaging Group. The multimillion-dollar conversion project had a tight deadline, and the scanners were in production around the clock.
"Many all-inclusive digital transformation projects have large format scanning needs with very stringent turnaround times. Some projects are a year or more, while others are just a few weeks. Simply put, without the Colortrac scanners added to our processing capabilities and imaging workflow, we would not have been able to complete the project effectively for our customers and profitably for ibml," comments Erik Thimaras, Director of Conversion Services, ibml.
Colortrac large format scanners enabled our company to quickly ramp up to accomplish multimillion-dollar high-volume document conversions while meeting — and exceeding — client requirements for turnaround and quality expectations," Thimaras continues. "The scanners have proven to be reliable, durable, fast, accurate, and user-friendly. The TWAIN driver option integrates nicely with ibml Capture Suite software, allowing us to integrate the special documents into our scanning workflow along with our ibml FUSiON Scanners.
ibml's Business Process Outsourcing division provides remittance processing, healthcare revenue cycle management, disaster recovery document imaging, and general scanning and rescanning services. This includes indexing, data capture, back-file conversion, image and data archiving, conversion of film-based technology to digital format, and media destruction.
ibml uses its intelligent information capture software, ibml Capture Suite, to automate the processing of virtually any document, in any size, including specialty items such as books, engineering drawings, and ledgers.
"Accuracy, high quality, dependability, and speed are paramount for a service bureau. Our Colortrac scanners run five days a week, 8 to 16 hours a day. Year after year, the scanners handle the workload well," Thimaras says.
"Our workflow consists of both large format jobs and projects that are mostly letter-size but have some oversized documents mixed in. We can use a combination of the Colortrac scanners and ibml scanners to process occasional large format documents in a collection. Thanks to the Colortrac scanners, we can accomplish these types of projects seamlessly and in a very cost-effective manner," Thimaras adds.
A case study of ibml is available at Colortrac.com/news-articles.