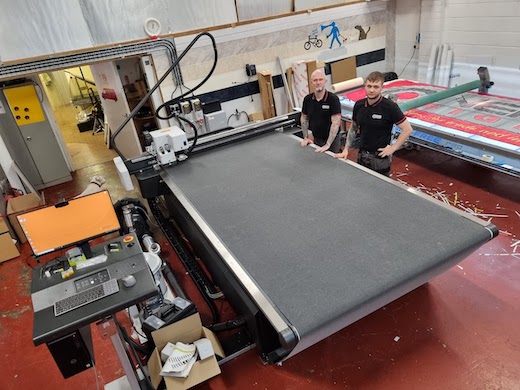 Steve Goodfellow (L) and his son George
Established in the 1940s and still in the same family, the investment of a digital cutting table has futureproofed this family business for the next generation
CMYUK, Shrewsbury – O'Neill Signs has installed a Kongsberg X24 digital cutting table and i-Cut software from CMYUK. The new equipment has removed production bottlenecks and enhanced efficiency, speed and quality at the Runcorn-based company.
Founded in 1947, and still owned by the same family, it embodies the evolution of sign production from hand-painting to the latest in digital technology. With a pedigree of being the premium supplier to the one-time British blue chip giant ICI, O'Neill's specialises in all types of signage and engraving for multiple industries and sites. It also offers vehicle graphics, posters, labels and banners to the mix.
Jointly managed by husband-and-wife team Steve and Tracy Goodfellow(nee O'Neill), investing in the Kongsberg has meant more than just upgrading in-house capabilities. "Myself and our son George went to CMYUK to evaluate the machine and we were both blown away," says Steve. "George is 26 and investing in the Kongsberg puts more resilience into the business. In the next few years, if one of us retires, George has the ability to do more with less people effectively. It's really a future proofing exercise."
The Kongsberg factor
Over the past few years, a number of materials reps had pointed out to Steve that the Kongsberg digital cutting capability was the route he needed to take, but Steve's had a perception of the Kongsberg as an aspirational piece of equipment which put him off.
For some time however, he had looked at how to square the circle with finishing board. The print and cut facility of the company's CJV Mimaki printers could deal with non-rigid jobs, but rigid was problematic. Guillotines or a CNC router were just not versatile enough for the cost.
He finally succumbed, and began researching opinion on UK Signboard. "The Kongsberg came up as a high end, realistically priced option compared to the Zund, with all the reliability and longevity that you'd expect. I received a couple of e-shots from CMYUK and I also know Sue Hayward, sales director for equipment at CMYUK as I have purchased several printers via her over the years. I called her up and had a proper conversation. I still felt somehow that the Kongsberg was a bit of a luxury, but then I realised it's not like a printer that needs upgrading every five years. We're talking a 20-year machine, and the X24 is modular, so you can add tools as and when. The X24 Edge bundle really suits us," says Steve.
Proof in the pudding
Steve and George visited the CMYUK demonstration and training centre to put the Kongsberg through its paces.
"We took some samples down with us. I'd heard sales blurb before and so I wanted to make sure. On the morning we left for the demo, I basically got some of the lowest tack vinyl I could find, stuck it on to Foamex and Dibond. Obviously, vinyl that's been stuck to a board for a long time behaves very differently to vinyl that's been stuck on an hour ago – then it's repositionable. I thought there'd be some snagging, peeling or ripping. Our samples went through the Kongsberg perfectly without making so much as a mark. That on its own sealed the deal," says Steve.
The company also purchased i-Cut software, "It does everything you need it to do, all you have to do is press the button. It cut out a lot of processes," he says.
Bedding in the new equipment
By actively demonstrating the capabilities of the cutter to clients, the company has started to upsell a number of solutions – such as kiss cut stickers for a long-standing client, greatly improving both the product and the service.
While the Kongsberg is updating existing customer requirements, it is also attracting new work through the door. In the first week alone, the company received an order for stencil cards, something it hasn't done for several years, when this work was done by hand.
The company is aiming to produce its own standard branded packaging boxes sharpening its overall corporate image, and finishing bottlenecks have all but disappeared.
Says Steve, "What we'll be concentrating on is feeding the Kongsberg from the front end. Even by simply producing shaped contour cut signage will add to the growing momentum. We'll be pushing for customers to follow this route, optimise what we have and start to explore new avenues that are opening up before us."