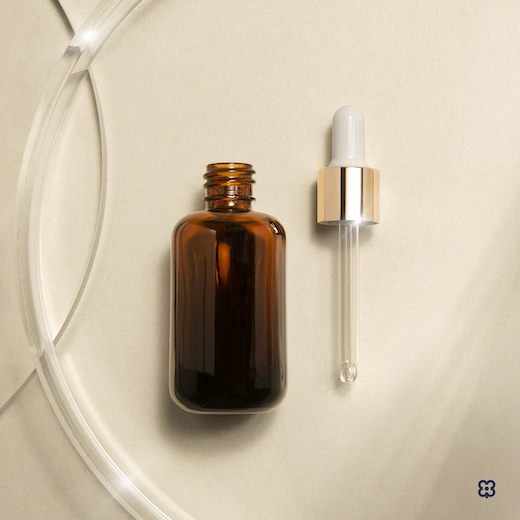 Suitable for makeup, fragrance, and skincare, Olivia 30 Super-Weight (SW) Amber offers luxe appeal while preserving product integrity.
Richmond Hill, NY (US headquarters) – Baralan, a consolidated player in primary packaging for the cosmetics and beauty industries, has introduced its Olivia 30 Super-Weight (SW) Amber, an expansion of its popular Olivia line. Characterized by its amber color, the new bottle was developed specifically for makeup, fragrance and skincare products. The Olivia 30 SW Amber is the newest addition to the Olivia 30 SW bottle series, joining the flint glass and cobalt blue versions.
The Olivia 30 SW Amber combines product integrity preservation with an aesthetically pleasing look. Its amber color enables the glass to filter UV rays, partially avoiding light absorption. Ideal for light-sensitive products, the amber bottle provides enhanced protection that significantly diminishes the likelihood of discoloration, shelf-life reduction or other adverse effects of UV radiation. Additionally, the Olivia 30 SW Amber is designed to be simple yet sophisticated, featuring a rounded shape and signature super-weight style comprising a heavier glass bottom for a luxe appeal that enhances consumer experiences.
Created with sustainability in mind, Baralan's Olivia 30 SW Amber is composed of 45% Post-Consumer Recycled (PCR) material, an essential factor for low environmental impact. The new bottle has a 30 ml capacity and a finish of GPI 18/415, allowing the bottle to be paired with a wide range of accessories.
"We are pleased to expand our Olivia portfolio with the addition of the Olivia 30 SW Amber – the perfect combination of design and functionality," said Maurizio Ficcadenti, Global R&D Manager at Baralan. "We are confident end-users and brands alike will enjoy the eye-catching, timeless look, plus its exemplary protection of delicate formulations against damaging UV rays, which can adversely affect beloved beauty products."
For more information, visit www.baralan.com.