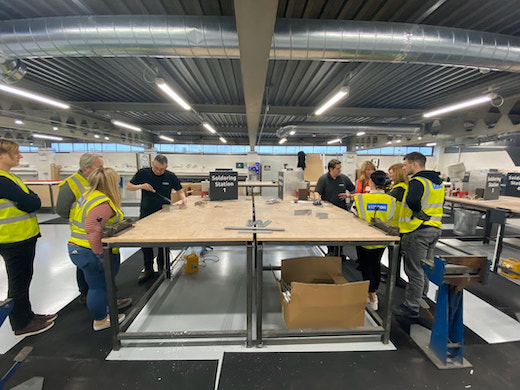 Sarah Winterbottom and Izabella Ivanovici of industry initiative Women in Signs and Graphics and Sam Armstrong of signage consultancy Make it Happen have partnered to offer a 'Ladies Day' signage bootcamp on Wednesday 15th December at SignFAB (UK) in Leicester. Attendees are invited to join a women-only signage workshop to learn first-hand how signage is manufactured and share knowledge and ideas that will benefit their businesses in a supportive environment.
The one day programme will take place from 9am to 4pm, and will include demonstrations of techniques and materials that would otherwise take months to pull together, and is designed to support those that are new in the industry as well as established clients and companies.
The Ladies Day will cover:
Flat cut materials
Sign trays and stencil cut signage
Built-up and illuminated letters
Totems and CE Certifications
New products in the industry
Sam Armstrong, Director, Make it Happen, comments: "Over three years of training I have had many a conversation with ladies who don't always feel confident enough to ask questions, as the ratio tends to be one lady to five gentlemen on each course, although I'm delighted to say that in recent times, this is changing. I have a great relationship with Sarah and Izabella and we've had numerous conversations over the years about encouraging more ladies into this fabulous industry.
"This is why we feel it's the right time to host the Ladies Day, which will be a jam-packed day of signs, signs, signs, including the hands on element in the factory, going through more products in one day than most get to see in a year!"
Sarah Winterbottom, Managing Director, Josero, comments: "We're really proud to partner with Make It Happen to deliver this unique Ladies Day Signage Bootcamp. Our initial goal when starting Women In Signs and Graphics was to inspire, promote, and encourage women in the industry, and help like-minded women connect and share ideas. What better way to do that than in a practical and creative environment, where women of all levels of experience can roll up their sleeves and learn together?"
Izabella Ivanovici, Specialist Recruitment Consultant, INV Recruitment, comments: "This is a heavily male-dominated industry so it makes sense that the men to women ratio at these workshops tends to favour men. This is why we decided to organise the Ladies Day Bootcamp to encourage women to take part in Sam's brilliant training course, to learn about signage in a women-only environment where we can share ideas and opinions. Hopefully, this will inspire more and more women into the signage industry in the future."
To register interest in attending contact Sam Armstrong at Make It Happen: [email protected].

About Women in Signs and Graphics UK
Our purpose is to unite Women in Signs and Graphics and to inspire, encourage and promote women in the industry as part of a group of like-minded individuals. We aim to open up more opportunities in the industry for women whilst collaborating with the education sector to encourage the next generation to embark on successful careers in an inclusive environment.