Print speed is just one factor in a larger ecosystem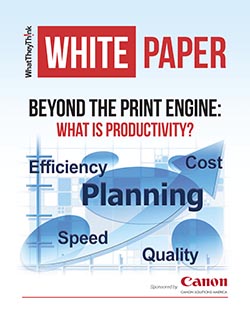 Wide-format and display graphics providers are constantly challenged by the need to get jobs on and off press as quickly as possible, and are always on the lookout for ways of speeding up the process. The speed of the printer itself is the most conspicuous—and highly touted by equipment manufacturers—factor, but other steps in the process can impede overall productivity. When it comes to flatbed wide-format printing, board loading in particular can be a major bottleneck.
A new WhatTheyThink white paper sponsored by Canon Solutions America—Beyond the Print Engine: What Is Productivity?—looks at the various aspects of flatbed wide-format productivity, specifically focusing on board loading. Automation options, such as robotics, have started to appear, but one approach—Canon's FLOW technology—provides a unique strategy for boosting flatbed printer board loading.
In this white paper, you'll learn:
What are the steps involved in flatbed board loading and how do they impact productivity?
What solutions exist for improving the board loading process?
What is Canon FLOW technology and what speed improvements can it provide?
Download the white paper here.
About Canon Solutions America, Inc.
Canon Solutions America, Inc. provides industry leading enterprise, production, and large format printing solutions, supported by exceptional professional service offerings. Canon Solutions America, Inc. helps companies of all sizes discover ways to improve sustainability, increase efficiency, and control costs in conjunction with high volume, continuous feed, digital and traditional printing, and document management solutions. A wholly owned subsidiary of Canon U.S.A., Inc., Canon Solutions America, Inc. is headquartered in Melville, NY and has sales and service locations across the U.S. For more information on Canon Solutions America, please visit csa.canon.com.
About WhatTheyThink
WhatTheyThink is the printing and publishing industry's leading media organization, offering a wide range of publications that deliver unbiased, real-time market intelligence, industry news, economic and trend analysis, peer-to-peer communication, and special reports on emerging technology and critical events. Special interest sections include Economics, Wide-Format & Signage, Labels & Packaging, Software, Print Finishing, Textiles, and Industrial Print. WhatTheyThink hosts webinars and live events as well as providing content through a syndication program, delivering content directly to related websites. In addition, WhatTheyThink offers a wide range of lead generation and branding programs that help print- and publishing-related companies achieve business growth. For more information about partnering with WhatTheyThink, contact Eric Vessels at [email protected], Kelley Holmes at [email protected], or Stephanie Papp at [email protected].