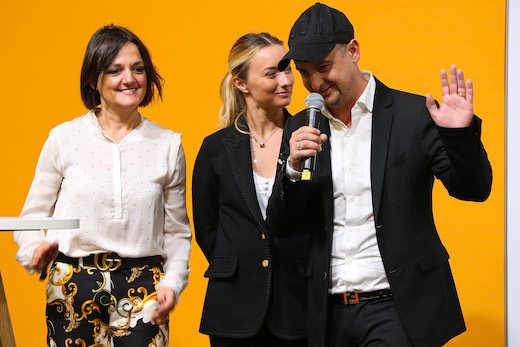 Città di Castello, Italy – The Packaging Europe Sustainability Awards is the world's most serious and prestigious competition for sustainable packaging material and machinery innovation.
The 2021 winners have been announced during the Sustainable Packaging Summit on 29th September at FachPack in Nuremberg, Germany.
CMC Spa, a KKR Global Impact Fund Portfolio Company, has honourably won the "e-commerce" award for the new CMC Genesys right-size auto-packer.
The "e-commerce" was a new category unveiled for this year edition focusing on the best sustainable innovation for e-commerce.
The rise of ecommerce is considerably fuelling the parcel industry and contributing to an increase in packaging production and environmental impact as a result.
Tim Sykes, Packaging Europe's brand director, explains "Since the Covid-19 pandemic we've seen this trend accelerate exponentially, elevating e-commerce to the top of the agenda and making demand for environmentally beneficial innovation for this channel all the more urgent. We therefore believed that it was the right time to shine a Sustainability Awards spotlight on this topic."
A global jury of independent sustainability experts representing the whole supply chain has rigorously and objectively vetted the submissions and brought CMC Genesys on the podium as the winner.
CMC Genesys represents the next generation of CMC right size auto packers. It's the only 3D packaging machine that can be directly connected to warehouse storage through the CMC Patented Vary-Tote system. Orders are picked and consolidated into the CMC VaryTote which is directly conveyed to the Genesys. CMC VaryTote features adjustable inner guides used to correctly size up the items. This adjustment will determine the dimension of each box which will be uniquely sized to each order. This innovative concept allows you to feed and pack multi-line orders without the requirement to be strapped or wrapped together.
Since 2013, when the first CMC CartonWrap right sized auto-packer was introduced to the market, CMC has pushed boundaries through game changing ideas and developed solutions and accessories to reduce the impact while adding additional functionality to packaging.
The new CMC Genesys boxes uses less corrugated compared to a standard RSC carton and reduces volumes by 40%. Smaller boxes mean higher truck density, so less C02 emissions during the last mile.
By creating a box that literally fits the items inside, harmful void fill that require thousands of years to decompose (i.e plastic pillows, Styrofoam or packing peanuts) are eliminated. Reducing materials does not mean the packaging is weaker: Genesys box is robust and extremely protective thus guaranteeing for product integrity during transportation. The new built-in easy opening and reseal feature offers frustration free unboxing, improves the end customer experience, and produces a solid box that can be easily used for returns. Using the same packaging in case or returns contributes to reducing packaging waste.
Last, boxes are safely sealed with low impact glue rather than tape for easy disposal. Adopting a mono-material approach for the whole pack make recycling easier.
Francesco Ponti, who attended the ceremony and collected the award commented "As a KKR Global Impact Fund Portfolio Company, CMC is committed to a sustainable future, where both people and planet can thrive. That is why we combine our engineering capabilities and passion for innovation, to create industry leading sustainable packaging solutions. Our ambition is to be the go-to partner for sustainable packaging solutions globally, and to be enablers of a Zero Waste and Net Zero Carbon future." "This award will further fuel our commitment and eagerness to put sustainability at the canter of every aspect of our business."