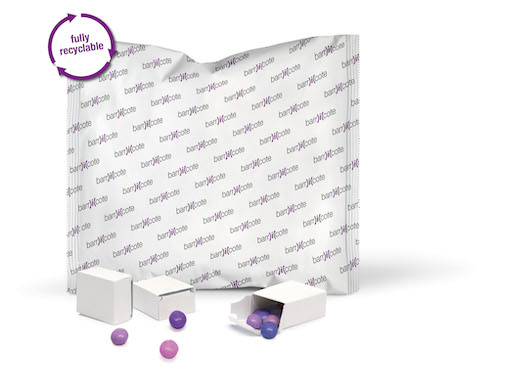 Fully recyclable secondary packaging for chocolate drops made from barricote LINER MG
Bielefeld – Mitsubishi HiTec Paper has been developing fully recyclable barrier papers for flexible food and non-food packaging since Drupa 2016. The demand for environmentally friendly packaging papers with effective barrier functions has increased rapidly since then. A key player in the food industry has been using barricote BAG WGOM for cocoa powder for many years, and for some time now barricote LINER MG for secondary packaging for chocolate drops.
Developed in close cooperation with large food manufacturers, packaging machine manufacturers and processors, Mitsubishi HiTec Paper now offers a whole range of barrier papers with barricote. The fully recyclable papers can be used as bag packaging, wrapping paper and liners. With effective combinable barriers against water vapour, grease & oil, oxygen & aroma as well as mineral oil migration, barricote papers are suitable for both primary and secondary packaging. Mitsubishi thus makes a significant contribution to waste reduction, circular economy and the reuse of valuable raw materials.
Mitsubishi HiTec Paper's sustainability goals and product strategy coincide particularly with the ambitious goals of large food manufacturers. Newly developed packaging should be 100% recyclable. Leading food companies are relying increasingly on paper as a packaging material and have been working with Mitsubishi's barricote barrier papers in product development and production for years.
The most recent result of the close cooperation is the secondary packaging for chocolate drops. For the outer packaging, the food manufacturer utilises barricote LINER MG. The barrier paper has impressive heat sealing abilities, very good processing properties and acts as a particularly effective barrier against mineral oil migration as well as against grease and oil, whilst also being completely recyclable.
"Our barricote papers not only offer excellent barriers and excellent heat sealing capabilities, they are also 100% recyclable. By producing barricote we are contributing to the vision of a waste-free future," says Dr. Dieter Becker, Director New Business Development at Mitsubishi HiTec Paper. "We rely on water-based coatings and a high proportion of biodegradable ingredients. At the same time, our barrier papers are 100% free from plastic films, fluorocarbons, chlorinated hydrocarbons and optical brighteners. We are proud to be able to work with the development teams of major brand owners on successful projects in the product transformation from plastic packaging to paper packaging and in doing so make a valuable contribution to sustainable, environmentally friendly packaging solutions of the future."
Mitsubishi HiTec Paper Europe GmbH is a German subsidiary of Mitsubishi Paper Mills Ltd., Japan, one of the world's leading manufacturers of specialty paper. The roughly 770 employees at Mitsubishi HiTec Paper Europe produce high-quality direct thermal, inkjet, carbonless, label and barrier papers for flexible packaging at two tradition-rich locations in Bielefeld and Flensburg. Each factory stands out for own base paper production, state-of-the-art production machinery and innovative coating technologies. Through its dense global sales network, Mitsubishi HiTec Paper Europe supplies a full range of specialty papers for many applications and printing technologies – and is a highly capable partner whenever customized coated paper solutions are required. www.mitsubishi-paper.com