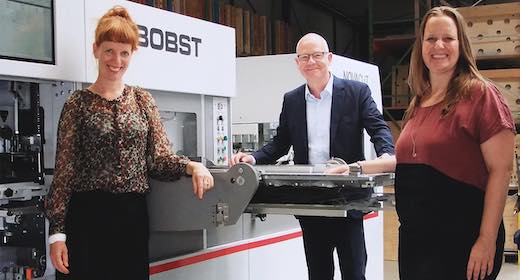 Maren (left) and Laura (right) Grondey with Hans Dreistein (Bobst Meerbusch)
Mex, Switzerland– "We are active at the top end of the market. and our technology must be up to it", declares Maren Grondey, CEO of Siemer Verpackung GmbH, headquartered in Ronnenberg near Hannover in Germany. Folding carton packaging for cosmetics, dietary supplements, sanitary articles, and consumer and stationary products are just some of the high-end packaging items produced by the company of 35 employees. As a full-service provider, it is particularly keen to execute sustainable packaging ideas for its customers.
"It was time to reset our die-cutting process. Our almost 20-year-old flatbed die-cutter SP 102 E from BOBST increasingly limited our production capacity",explained Laura Grondey, who has been running the company with her sister Maren since mid 2011. "We considered offers from several manufacturers. BOBST has been the market leader in flat-bed die-cutters for a long time. And from our point of view, this has not changed", says the technical equipment manager. The company therefore decided to bring the die-cutting process to a new level at the beginning of 2020 by investing in a new flat-bed die-cutter NOVACUT 106 E and by upgrading the existing SP 102 E.
The high speed of the NOVACUT 106 E - 8,000 sheets per hour - its high level of automation, user-friendly design and ease of operation at an appealing price-performance ratio was a perfect fit for the packaging manufacturer. The die-cutter is also very flexible in the processing of different materials. It is highly reliable in cutting thin material from 80 g/m2, solid board up to 2,000 g/m2, and corrugated board to 4 mm.
"With NOVACUT 106 E, we can more easily commit to and meet even very tight deadlines. Maren Grondey highlights that the impact of the considerably increased productivity in the die-cutting process is greatly appreciated by their clients. For this to happen, all factors must be optimally coordinated. Tooling, in particular, has become key. Siemer Verpackung relies on Hesse Stanzwerkzeuge, a company certified by BOBST within its tooling initiative. Siemer Verpackung furthermore booked several days of training with BOBST to bring its machine operators' knowledge up to date.
Faster job changeovers
Siemer changes over its NOVACUT 106 an average of three times per shift, with very short makereadies. Especially during the initial set-up of new jobs machine operators reap the benefit of greater die-cutter automation. Automatic, push-button systems for quick fitting and locking facilitate fast tool change. And the new, intuitive user interface with touch-screen also increases operating efficiency. The operators can immediately see any issue during the production process on the screen: where it is and how to intervene.
Smooth sheet travel is crucial to high reliability and minimal waste. Combined with energy efficiency, the die-cutter thus also supports Siemer's environmental goals. Laura Grondey: "These days it's harder than ever to predict future market requirements. That's why flexibility in the processing of such different materials is so important".
While optimising the SP 102 E, oxidation on platens, frames and die plates was removed by using a patented tool and a special, NSF-certified cleaning agent. BOBST's Services Maintenance Plus has always provided the SP 102 E with preventative maintenance, thereby minimising machine breakdowns.
NOVACUT 106 E is linked to BOBST's Remote Service Helpline Plus. Siemer uses the productivity apps Remote Monitoring and Downtime Tracking to monitor process data and to analyse breakdowns. It purchases spare parts and consumables via MyBOBST, but has not yet required any parts for the NOVACUT 106 E. Maren Grondey: "BOBST provides its customers with a variety of options for squeezing every last ounce of efficiency, quality, and flexibility out of their production engineering."